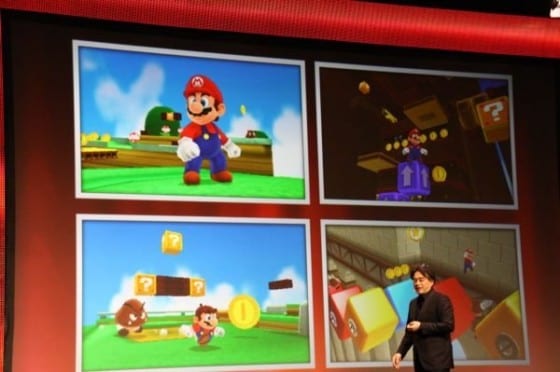 Back at GDC a few months ago, Nintendo casually made reference to the Super Mario 3DS title that was missing from the handhelds launch lineup.  Sure, there were a few screens and a logo (with a tail!) but beyond that, we knew very little about the long awaited game. Now, the character's legendary creator Shigeru Miyamoto is starting to talk — and yes, it's awesome.
"It's a combination of Super Mario Galaxy and Super Mario on N64," Miyamoto told EDGE magazine in an interview. "It won't convey the message if I talk to you today, but if you play it at E3 that will give you more understanding of what I'm talking about."
So, it'll be playable at E3 for sure then. Awesome. Miyamoto finished the interview by commenting on that tail seen in the game's logo — an yes, is what you think it would be. Can you say raccoon suit? "The tail you mentioned on the logo – it's what you think it is," Miyamoto said. "You probably know what's going to happen using that character."
Miyamoto also assured EDGE that the game is coming later this year. Stick with Blast for more info on Super Mario Bros 3DS, along with all of the E3 happenings.