As yet another winter storm pummels Boston, picture yourself in a Venetian spa. The air is warm, with a sea breeze. There's nothing but endless pampering, picnic lunches, and fifteen beautiful women who fill every necessary role in your life, who become whatever you want or need them to be.  But wait, suddenly they aren't tending to your every need anymore. It turns our your lifestyle and career depend upon making a very big movie very fast.  You don't even have an idea for the script and your nine-year-old self is constantly popping up to remind you that you are still an incomplete human being.
Snow starting to sound a little better?
Confronting the past, and the future, is part of the deal in SpeakEasy's production of the Tony-winning musical Nine, playing through February 20 at the Boston Center for the Arts. "Nine" is the musical adaptation of Federico Fellini's legendary autobiographical film, "8 ½," and was recently made into a film that scored several Oscar nominations. Its legacy is not quite reflected in Arthus Kopic's oddly structured book however, which leaves Maury Yeaston's tunes misplaced and borderline disastrous in terms of character development and effective storytelling.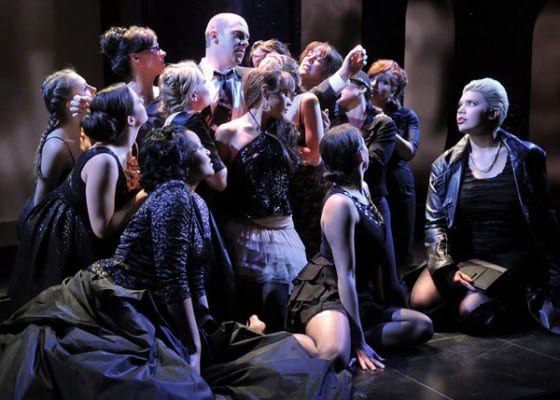 The tale follows one man, flailing filmmaker Guido Contini (Timothy John Smith) and the many women in his life: what they mean to him, and why he can't seem to grow up. Avoiding a deadline, he retreats to a Venetian spa with his wife Luisa (Aimee Doherty), only to be pursued (not unwillingly) by former lover Carla (McCaela Donovan), as well as his demanding French producer (Maureen Keillor) and loathed critic Stephanie Necrophorus (Amy Jackson). In a bout of desperation, he summons the actress Claudia (Jennifer Ellis) to save his film, taking a chance that he will fall in love with her again. These five lovely ladies are only drops in the pool of women that surround him; the highlight of "Nine" is hearing a chorus of 15 of some of Boston's most established actresses, as well as many up-and-coming ones, sing Maury Yeston's mellifluous score. Timothy John Smith and the young actor who plays him as a child shine as well, but what makes Nine unique is the chorus.
The show provides several breathtakingly lovely moments, aided by a stellar projection design by Seághan McKay artfully cut out by columns of the spa on Eric Levenson's set. The set almost becomes another character when Guido and Claudia create a spellbinding moonlit night on the beach as they sing about the love they wish they felt for each other. Another striking moment is when Luisa, Guido's wife, breaks down upon discovering the charade he believes their marriage to be. Her angry cries, drowned out by the fanfare of his film, make for one of the truly emotionally poignant moments of the production. Amy Johnson's, Stephanie Necrophorus adds a refreshing texture to the cast of women, and irreverent pieces like "The Germans Are Coming" and "Folies Bergeres," while confusing in their placement within the play, do not fail to entertain—which the cast does, with great energy and skill.
The disconcerting part of this "Nine" can be summed up in one word: arrangement. For one thing, Speakeasy's set lacks depth (as does the play as a whole, really). The shallow playing-space may have been a sacrifice for the projection and column effect, but ultimately, it limits the choreography. The script itself has some arrangement issues in terms of the placement of the songs; they're not conducive to character development; or an arch that should give it the show punch. The viewer finds herself wondering why she's supposed to believe in Guido's success or problems in the first place. As the play progresses, we hear songs that explain this, or interpret it, and wonder why they didn't come sooner (or in some cases, later) so that certain action would hold more weight.
That said, it's still a musical. The blissful harmonies and company of "Nine" will charm your socks off, even in the cold. Just grab a little vino at intermission and let yourself believe that the stage lights are the Venetian sun.