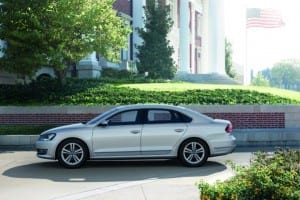 Volkswagen revealed the all-new Passat at the Detroit Auto Show today as part of their growth plan for the U.S. market. The Passat may have been designed in Germany but will be manufactured at Volkswagen's environmental conscience plant in Chattanooga, Tennessee.  The new Passat and the all-new Jetta are part of the divine plan Volkswagen has to significantly increase market share in the United States.
The new Passat is larger, and will offer features that American drivers favor and will be the only mid-size German engineered automobile with a price point starting at around $20,000 when it arrives later this year. Final pricing will be released this spring. The Passat will be available with three trim levels, S SE and SEL, with a total of 16 equipment levels and three engine choices:
2.5L five cylinder engine (170 hp/177 lb.-ft.), which is being offered in the Passat for the first time, will be mated to a standard 5 speed manual transmission or may be paired with a 6-speed automatic.
2.0L TDI Clean Diesel (140 hp/236 lb.-ft.) has the power of a six cylinder gasoline engine and the fuel economy of a hybrid. The Passat TDI is expected to deliver 43 miles per gallon on the highway, with a range of approximately 800 miles. Volkswagen's TDI clean diesel engines, which come with a NOx storage catalytic converter, are among the cleanest engines in the world, fulfilling emissions requirements in all 50 states with an optional 6-speed DSG transmission.
3.6 liter VR6 (280 hp/258 lb.-ft.) makes the new Passat a top-flight sport sedan. It offers power and luxury-class driving comfort, with European-type restraint in its fuel consumption — estimated at 28 mpg on the highway.
Volkswagen hopes to set new records for safety, driving performance and environmental responsibility with the new Passat. Instead of trading in your old vehicle to purchase this top of the line Volkswagen, why not take the more charitable route and donate your car to Donate Car USA.