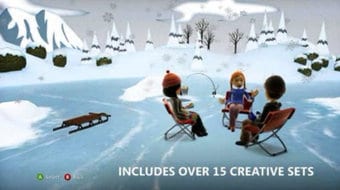 Almost as soon as the door's to this year's CES opened, specualtion started running rampant when a picture of Microsoft's booth, with the logo for something called Avatar Kinect splatter across it. What was it? A new game? The Kinect update we've been hearing about? Even better — it's a new virtual chatroom.
Now, I hear that loud sigh from the collective masses, but in truth, Avatar Kinect, as revealed this morning by Microsoft's head honcho Steve Balmmer has some pretty cool tech behind it. First, the basics, Avatar Kinect puts gamers, in the form of their avatars into several different scenes (like that festive winter wonderland over there) to chat with up to three other players.
Here's the cool part though, Avatar Kinect comes with a pretty lengthy Kinect update, that allows the sensor to pick up on everything from facial expressions to finer movement. The new tech was demonstrated this morning during a Microsoft event.
The update, will also allow users to record chat sessions to upload them to social media networks such as Facebook. The real question is when we'll see this new technology integrated into our games.
Stick with Blast Magazine for all of the up to the minute CES happs.