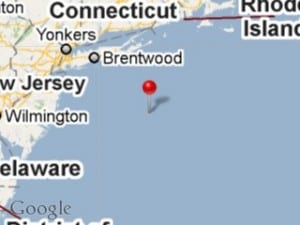 A magnitude 3.9 earthquake hit under the Atlantic Ocean, about 180 miles off the East Coast, according to the US Geological Survey.
The quake struck at 12:45 a.m. at a depth of 4.1 miles and was felt by many people across New England and the Northeast.
According to responses collected by the USGS, people from Vermont to West Virginia reported feeling the tremors.
In Massachusetts, reporters said they felt tremors from Boston to Plymouth, all the way west to Holyoke.
Quakes of this magnitude hit about once a year in this area. The last time Massachusetts residents felt the earth shake was in June, when a 5.0-magnitude tremor hit north of Ottawa.
But quakes are incredibly popular across the globe. By contrast, a 5.5 quake struck the Kuril Islands northeast of Japan around 1 p.m. today, with several similarly sized aftershocks striking throughout the afternoon. A 5.6 quake struck the South Indian Ocean at 4:19 p.m, and several small-to-medium quakes struck the Aleutian Islands today.