[rating:3/4]
In "Hereafter," Clint Eastwood follows three characters as they struggle to deal with their experiences with death.  Marie LeLay (Cécile De France) is a budding TV personality who has difficulty coping with her near-death experience.  George Lonegan (Matt Damon) is a retired psychic who was once famous for his ability to actually communicate with the dead.  Marcus (Frankie / George McLaren) is a little boy who is devastated when his twin brother is run down by a car.  Through these stories, the film explores three separate encounters with death and what comes after.
These dynamic characters enable the film to explore death in interesting ways.  Each character represents a connection with death that most of us can relate to.
Directed By: Clint Eastwood
Written By: Peter Morgan
Starring: Matt Damon, Cécile de France, Frankie McLaren
Rated: PG-13
Almost everyone at some point will experience what Marcus goes through in "Hereafter:" the death of a loved one, and the willingness to give anything to communicate with them again. In contrast, George demonstrates how much of a burden it would be if we were able to communicate with those who have died. Marie represents a relationship with death that we all will face one day: death itself.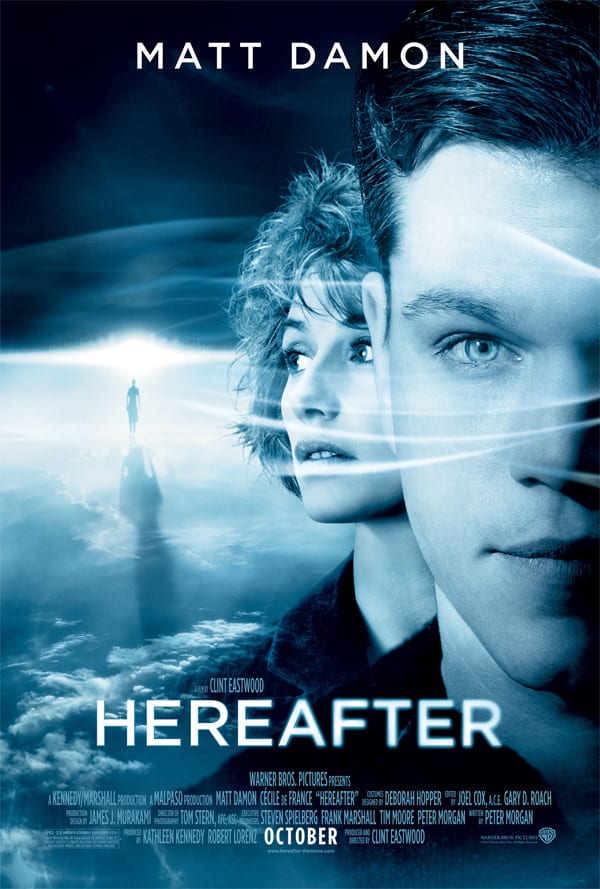 These three storylines are intriguing, unique, and help "Hereafter" stand out as a film that is very much a departure from traditional Eastwood movies. But though the characters and their stories are fascinating, it's difficult to take George's communication with the dead seriously.  Eastwood tries to pull it off with soothing music and surreal special effects, but in the end it's hard not to roll your eyes at times.
The film seems aware of how precariously it balances the fine line between believability and absurdity.  About halfway through the film there is a brief sequence in which Marcus seeks the council of a number of different "psychics" in the hopes of communicating with his dead brother.  They all turn out to be quacks making it up as they go along.  Here the film is acknowledges how difficult it could be for the audience to accept George's ability. But George's story isn't the main focus of the film, allowing for themes beyond his psychic abilities.
Since death is the film is about, it understandably gets get dark and gloomy at points.  There are a few scenes purposefully included as comic relief to lighten the mood, but the majority of the movie remains deep, moody, and at times depressing. Despite this, the characters are complex and their storylines are interesting, enough to make "Hereafter" a good movie worth seeing