Ladies, as we know, Boston is expanding to become one of the top metropolitan destinations for the young and the restless looking for an exciting night out. Beantown has stepped up its game, and new bars, restaurants and various nightlife options have been popping up by the handful over the past couple of years.
Who says Saturday night is the best night to go out? If you're a Bostonian of the fairer sex, listen up because your city just got a lot more enticing during the week. If you're sick of every girls' night out being the same ol' cosmo and lounge combo endeavor after another, the following might interest you and make you oh so fabulously in the know.
1. Fashionably Late at The Liberty Hotel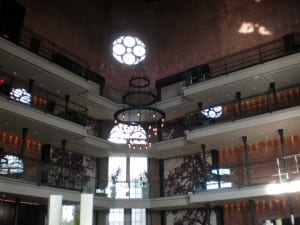 Ok so I gotta say it, if you haven't heard of The Liberty Hotel's Fashionably Late happening every Thursday night, you might be living under a rock. Sorry, but seriously. This is THE place to be on Thursday nights in the city. If you like fashion, an extensive cocktail list and rubbing elbows with the city's finest, this is the ladies night to look forward to each week. While models circle the upper levels of the hotel as they display the creations of Boston's hottest designers, you'll feel the magic between you and that fantastically dressed stranger you keep locking eyes with.
Whether it be that perfectly mixed dirty martini, the stylish new "so now"'  asymmetrical dress you're rocking, or the vibrations of the music pumping with the beat of the fashion show, you'll feel so chic. Make sure you know your designers before you approach however, as it's the fashion lovers of Boston that frequent this weekly event.
But don't let intimidation keep you holed up at home. There is no need to be dismayed by all those waif like types – The Liberty Hotel has made it that much easier to be chic. With one more week of summer, and our prayers for a possible Indian Summer, we may still feel compelled to watch those cals. Order from Liberty's "Sleek" Cocktail menu, where the drinks won't cost us more than twenty minutes on the treadmill the next day.
Check out this week's Fashionably Late on September 3 from 8 p.m. 2 a.m., with clothing designed by Samuel Vartan's and beats by Michael Savant. For true VIP status, plan ahead of time for your table reservations by emailing [email protected].
2. Red Sky's Ladies Night
Fancy an irresistible concoction with a serving of some rockin' 80's tunes? Well, you're in luck my fellow female liquid lovers; all you need to do is purchase just one $10 drink at Red Sky on Ladies Night, happening every Tuesday night from 5-9pm, and you are game for a FREE three course meal. Yes, you read that right. If that didn't entice you enough, there is also a DJ spinning your favorite 80's tunes so we can tap into the nostalgia of remembering our beloved MJ in true style.
Anyone who's ever heard the word recession (maybe once or twice recently?) is running in their three inch heels every Tuesday night to savor that beloved, and much needed, martini to get in on this deal. The menu changes slightly each week, but always includes a soup or salad to start, an entree and a dessert. As if that wasn't impressive enough, Red Sky is really showing us ladies some respect by always including a vegetarian option. You'll be hooked on this Tuesday night treat in no time.
3. Suneri Boutique
Snapple Fact: Did you know that Wednesday is actually the worst day of the week for most people, and not the usual suspect (and sworn enemy) we all lovingly know as Monday?
Suneri Boutique of Somerville feels your pain and has come to our rescue with the perfect excuse to kiss that hump day slump goodbye. Suneri carries all things lovely, trendy, and is always feeling generous on Wednesdays from 5-8pm, as they offer complimentary wine, hors d'oeuvres, and discounts on their fine clothing and accessories.
Suneri also boasts its own art gallery for your viewing pleasure while you shop. The store is adorned with various works of art by local and emerging artists and photographers such as Christopher Elsasser and Sarah Pollman.
So stick it to Wednesdays from now on by gathering your group of tight knit girls and revitalizing with some great deals, munchies and of course some vino – just enough to get you to Friday with a smile as opposed to your usual mid-week "Don't even talk to me til it's the weekend" frown.
4. The Colonnade Hotel's Roofdeck Pool
Now this is my kind of ladies night out — the kind where you are so excited for some much needed chick time you're ready to start at noon. To start the day out right, get to the Colonnade Hotel's anyone-who's-anyone-is-there roofdeck pool, open from 8 a.m. to 8 p.m.
Make sure to get there by this coming Labor Day weekend when our balmy summer days are tragically over. Be a lady and properly say goodbye to summertime basking in the rays with your teeniest bikini, your impossibly hot female crew, and a strong drink in hand.
It may be a somewhat hefty entrance fee at $30, but who says a splurge isn't worth it when you're looking down at Boston atop the only roofdeck pool in the city? With favorable mentions in USA Today, Boston Magazine and Playboy.com, this is one joint you can't afford not to check out.
Who knows who you'll meet — the possibilities (and yachts and Miami beach houses…) are endless. Just make sure the when you talk about your extravagant experience at the Colonnade later on that day you refer to it as RTP, its nickname uttered by all the beautiful people in the know. Oo La La.
5. The Greatest Bar's Country Night with WKLB 102.5
Ladies Love Country Boys.
Trace Adkins tells it like it is. A girl just can't resist a man with a cowboy hat on, a country twang, and oh that farmer's tan! Ok, that may be going a little too far. But in all honesty, country music has blown up in America, and females are a huge fan base. Although the Northeast isn't a place that immediately comes to mind when thinking of those sexy tractors we keep hearing about, you better believe Boston has its share of country ' music lovers.
The Greatest Bar caught wind of this trend and has grabbed our attention with their Country Music Night every Sunday from 4pm until the party ends, which won't be early with $3 apps and frozen margaritas going for $5. With Country 102.5's DJ Bob playing those county tunes we love so much, it'll be hard to pass up the opportunity of a mini Countryfest right here in Boston every week!
Instead of making your to-do lists for the week and heading to bed early like every other Sunday, hit up The Greatest Bar this Sunday with your girl crew for something different from your usual. Your weekly routine won't be completely out of whack, you and your ladies can down some frozen margs, split some apps, snag a cowboy's number, and still be home in time to watch "Entourage".
—
There you have it, Boston babes. Grab your girls for some fun, and don't wait until the weekend to do it!