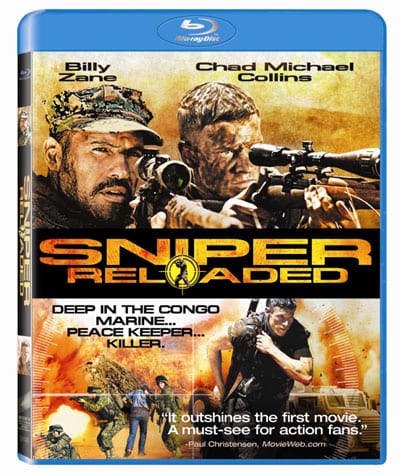 "I call myself an accidental actor," Chad Michael Collins told Blast. "I have not come across anyone in this town who has any kind of situation remotely resembling mine."
Collins plays the lead role in the film Sniper: Reloaded, which was released on Blu-ray and DVD on April 26. But acting was not what he intended to pursue when he moved to Los Angeles after graduating from college in New York. He was working in PR when a talent manager for one of his clients suggested he try acting. Collins never took a theatre class in college and was never in a school play, but after he took an acting class in LA, he discovered that he really did have an interest in the profession.
"I have an athletic background; I play a lot of sports," explained Collins. "[Acting] was the most physically and mentally strenuous thing I tried other than sports—I really responded to it."
After two to three years of gaining experience, while still maintaining his PR job, Collins landed his biggest role yet as Sgt. Brandon Beckett in Sniper: Reloaded, which he describes as a dream come true.
"It is a dream role to play a soldier and play pretend for a living," said Collins. "You get to play a hero and that's what I did all my childhood with G.I. Joe's and everything else. To be able to do that and get paid well for it…it's been a real blessing."
The Sniper franchise comes from Sony Pictures and includes Sniper, Sniper 2, and Sniper 3, all in which Tom Berrenger plays the lead role of Thomas Beckett. Collins portrays Berrenger's estranged son in Sniper: Reloaded and, along with his co-star Billy Zane, he is on a mission to stop another sniper from killing civilians.
Collins saw all of the other Sniper films and still regards the opening scene of the original Sniper, where Berrenger is camouflaged in the jungle, as the coolest opening he has seen for any military action film. Unfortunately, Berrenger was not involved with Sniper: Reloaded, but Collins still hopes to work with him in the future.
"I haven't met him [and] I haven't worked with him," stated Collins. "[But] I do hold on hope that we make more of these and that one of these days he will get on board and father and son can kick ass together."
While Sniper: Reloaded is part of a franchise, Collins believes the film stands on its own. "[The other Sniper films] were good source material, but this movie could exist without any tie back to the original movie," he said.
The film was shot in 23 days in South Africa on a small budget. Collins worked every day but was happy to do so. "I would rather spend six, twelve hour days on a movie than have a 40 hour work week," he explained.
But when he is not acting, Collins is working at his PR firm, JDS, where his talent manager also works. Being on both sides of PR has been a great learning experience for Collins. "I feel like it has kind of given me a unique perspective on all of this," he said. "In between acting gigs I go back into the office and try to get auditions for other actors. It is pretty cool. I am completely immersed in the entertainment industry."
Exchanging his military fatigues for fishnet shirts and eye-liner, Collins' next role is in the mockumentary Rock Barnes: The Emperor in You. Collins plays the role of a straight guy pretending to be the gay consultant to a self-help guru. There are hopes that that film will be entered in the Sundance Music Festival and released next year.
Collins has also had roles on CSI: NY and NCIS, and has an upcoming role in the supernatural thriller "The Summoning." Although he is acting in a range of roles, as of now, serious award-winning roles are not his goal.
"I'm happy to be a hero for hire at this point," Collins expressed. "I have always wanted to be the cowboy; I want to play the soldier; I want to play the athlete, the boxer. I want to do sci-fi stuff; the stuff I grew up watching. That sort of stuff is just really, really fun to me—it doesn't feel like work."
Overall, Collins has found a way to make his work fun by combining his passions for acting and PR, and the synthesis that now exists between them will surely be greater than the two apart.