Capcom shocked the world yesterday by announcing the sequel to Marvel vs. Capcom 2 that fans have been clamoring for for almost 10 years Marvel Vs. Capcom 3: Fate of Two Worlds. Marvel vs. Capcom 2 appeared on the Dreamcast, original Xbox, PS2, and in arcades and has been a massive cult phenomenon ever since. It recently reappeared on Xbox LIVE/ PSN to a significant reception as well.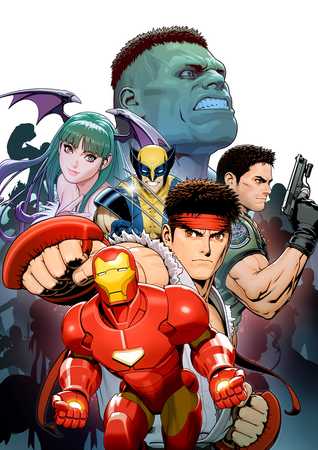 USA Today reported the following on MVC3's tech:
"As you can see, this is the biggest engine a fighting game has ever had under the hood, when it comes to raw processing power," says Seth Killian, Capcom's "special advisor" on the game. "This is the MT Framework that's powering the game, the same technology that brought us Resident Evil 5 and Lost Planet 2."
For a preview of what you might be getting in MVC3, you may want to check out the recent Tatsunoko Vs. Capcom for the Wii. It totally rocks and I have a feeling the mechanics are going to be very similar.
For anyone who isn't currently interested in Capcom fighters, behold the badness in this trailer:
From the fact sheet:
Features
•    Innovative graphics and gameplay bring the Marvel and Capcom Universes to life: Powered by an advanced version of MT Framework, the engine used in Resident Evil 5 and Lost Planet 2, now comes to Marvel vs. Capcom 3, bringing beautiful backgrounds and character animations to the forefront.
•    Evolved VS. Fighting System: Wild over-the-top gameplay complete with signature aerial combos, hyper combos and other original systems. The evolved battle system takes the exciting mind-reading game to a whole new level!
•    3-on-3 Tag Team Fighting: Players build their own perfect team and use Assist Attacks and each character's special moves to create their own unique fighting style.
•    Living Comic Book Art Style: See the most adored characters from the Capcom and Marvel universes brought to life in a "moving comic" style, blurring the boundaries between 2D and 3D graphics.Of course we'll have more coming soon, and here are a few places you'll be able to find the good stuff:
Release Date:  Spring 2011
Genre: Fighting
Platform: Xbox 360, PlayStation 3