BURLINGTON — What could possibly bring girls from age 5-15 together in a huge crowd speckled with a few reluctant brothers and hormone engorged high school boys speckled in on a Saturday afternoon? The answer is Vanessa Hudgens.
The High School Musical star stopped by Burlington Mall on August 1 to promote her new movie "Bandslam." A mob assembled around the center court to watch Hudgens and co-star Gaelan Connell judge the Boston Bandslam competition and sign autographs.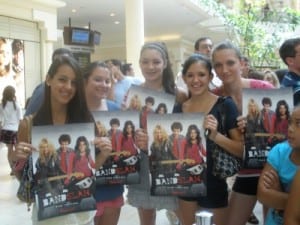 Hudgens and Connell listened to two finalists before picking Mike Ryan, a Lowell native who performed his own original song, as the winner.
"Bandslam" revolves around Connell's character Will, who moves to a new town where the end of the year battle of the bands is the biggest event on the social calendar "" "Texas high school football big". When Charlotte, the most popular girl in school played by Aly Michalka of (Aly and AJ and Disney's "Phil of The Future" fame) asks Will to manage her new band to win the competition all hell breaks loose. Will recruits his crush "" outsider and loner, Sa5m (the 5 is silent), played by Hudgens, only to find out (shocker) that she is incredible on guitar and has "a voice to die for". The band realizes they have a unique sound of their own but then disaster strikes, and they have to find out if they have what it takes to stand up for what they believe in.
"I think there is a little bit of everything. The music is great – the parents will appreciate the David Bowie" Hudgens told Blast after the brief autograph signing in the mall's FYE store. "For kids it is really relatable. There are a lot of awkward scenarios that are fun to live through with this movie."
"It's like School of Rock meets Juno and Breakfast Club all in one movie. It has a lot of moments that are really relatable and are not like typical high school movies" added Connell.
Connell also hinted that the film's actors got a lot of musical inspiration from their filming location, Austin, Texas.
"We were filming in Austin which is a music town and totally awesome, especially while SXSW is going on" Connell said.
"Bandslam" is Hudgens's first major film role outside of High School Musical, but she has a few projects lined up to help her break out of the "Gabriella" Disney mold. She'll be in "Beastly" opposite Neil Patrick Harris as well as "Sucker Punch" directed by Zack Snyder "" the man behind "Watchmen", "300" and "Dawn of the Dead". She was able to give Blast a little insight into the Snyder project.
"It is still the very beginning process for me. It's called Sucker Punch, set in the 1950's set in a brothel. There's a lot of action so I'm excited" Hudgens confessed before being rushed off to the next stop on the "Bandslam" publicity tour.
"Bandslam" hits theaters nationwide on August 14.