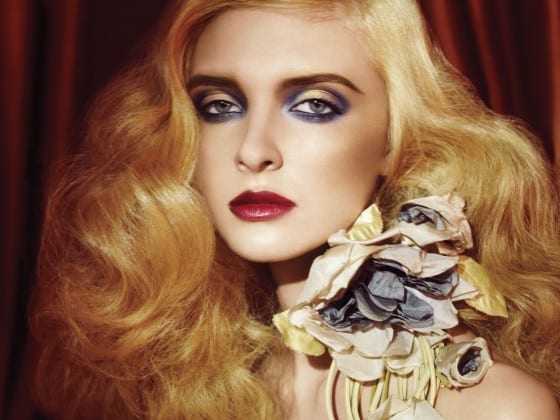 Ladies, it's time to update your makeup stash! This fall and winter, have fun with rich, vivid jewel tones that add warmth to winter skin and chicness to your fall and winter style.
On Sept. 1, Aveda will introduce its limited edition Jewels of the Earth makeup collection, a combination of gem-inspired eyeshadow and lip color hues that complement every skin tone and hair color, and can be used to create dramatic or subtle yet stunning looks.
"Jewels of the Earth is a palette of rich, intense tones," says Janell Geason, Aveda's global makeup artist. "Metallic, velvety-dark colors reflect depth and nocturnal elegance. The looks suggest a somber, antique and artistic mood, and the notion of old becoming new."
The collection includes six Petal Essence Single Eye Colors (available in Crushed Citrine, Terraverte, Sanidine, Azurite, Amethyst and Jade), which are are crease-resistant, lightweight and long-lasting and boast a silky, petal-soft texture for effortless blending thanks to jasmine and geranium waxes; one Nourish-Mint Sheer Mineral Lip Color (available in Sheer Petalite), made with plant and fruit waxes to smooth fine lines, plump lips and add moisture, and has mineral-derived pigments for a flattering touch of color; and two Nourish-Mint Smoothing Lip Colors (available in Tanzanite and Vanadinite), a creamy lipstick that gives lips full-coverage color for a va-va-voom look.
If rich makeup colors intimidate you, relax! Blast spoke with Geason, who shared her expert tips on how to recreate some of this fall and winter's standout looks from the collection—step by step!
Blast: Which of the colors from the collection do you recommend for light, medium and dark skin tones?
Janell Geason: All the colors of Jewels of the Earth can be used on all skin tones; the key is application. Just as gemstones are classified as transparent, translucent and opaque, these same effects can be achieved with makeup, therefore making all colors wearable for all skin tones.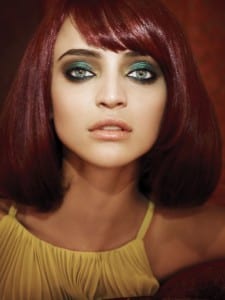 Blast: What about for each eye color?
JG: It depends on what you want to achieve. You can create an interesting contrast to your hair color or eye color. For example, if you have a vibrant red or violet toned hair color, choose rich emerald tones to create a pop; Jade works beautifully for this.  Or use your eye color as a guide to create tonal dissonance.  For example, green eyes with gold flecks look beautiful in amethyst tones, blue eyes shine with warm, rich copper tones, and brown eyes have it all depending on what flecks of color you want to bring out.
Blast: Since jewel tones are rich, how can they be "toned down" for an easy daytime look?
JG: For a more subtle look, use a pop of color on the top lash line above or in place of your eyeliner. Amethyst, Azurite or Jade are great options for this look.   Use the colors as an accessory, which means doing your makeup like you normally do and add a touch of jewel tones to it.
Blast: Any tips on how to make a smokey eye using the collection's colors instead of the classic black?
JG: Begin by smudging an eyeliner all around your eye.  I prefer Aveda's Black Orchid Eye Definer. Then choose your favorite jewel-toned shade–I love Amethyst, Jade or Azurite for this–and apply with a Medium Eye Color Brush.  Apply from your lash line to slightly above the crease. Blend outer edges well. Then go back with a lighter shade –I love Sanidine for a touch of gold–and apply slightly above the first color and accent the inner corner of the lid for added glam.  I suggest doing the top lid first to avoid the "panda eye."  Once you finish the top lid, you'll easily be able to see how heavy you need to go on the bottom lash line.  Finish the bottom lash line with the same jewel-toned shade you used on the top, and remember to blend well.  Curl lashes and apply Aveda's Black Forest Mosscara to top and bottom lashes. This smokey eye is my favorite for an evening out.
Blast: What is your favorite daytime look?
JG: For day, a strong red lip paired with a neutral eye creates a polished look. On the eyes, a sweep of Terraverte Eye Color from the lash line to slightly above the contour of the eye, with Sanidine diffused lightly at the inner corner of the eye, does the trick.  Finish with Aveda's Black Forest Mosscara on the lashes and Vanadinite Lip Color for a pretty pout.
So there you have it; now there's no excuse for ho-hum makeup this fall and winter. Do to your face what a sparkling bauble does for your outfit and brighten it up with gorgeous jewels!