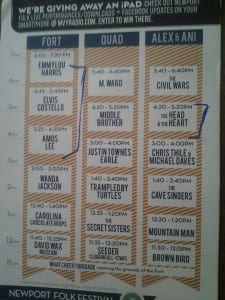 Newport Folk Festival 2011 – Day Two
Sunday, July 31, 2011
The Journey – Part Two
10:15AM
 If you're lucky enough to score tickets to both days of the Newport Folk Festival, it makes sense to stay overnight in Newport, or elsewhere in the tiny state of Little Rhodey for that matter.  There's no camping on the grounds of Fort Adams, but there are some reputable campsites nearby.
I myself, had ferried, bussed and subwayed my sunburned behind all the way back to Somerville with strings still pulsating in my brain, and now found myself back on the Peter Pan. This time, with a less festive crowd, by appearances.
Knowing the score now, there was daydreaming to do. I put on my straw hat and my shades and plugged in. At one point a woman at the front of the bus was staring at me with a huge smile on her face. I searched her face for familiarity and then looked away, thinking she must be looking at someone else. Checking back though, she was still staring at me,  beaming away.
I looked her dead in the eye and smiled, plaintively. She pointed at my head. At a complete loss, I smiled and laughed a "now I get it," kind of laugh, nodding my head without removing my earbuds or sliding down my shades. She laughed and gave me a big thumbs up.  "Right on!" she seemed to be saying.
I still have no idea what the hell this was about. Maybe she recognized my straw hat, shades and earbuds the uniform of Newport Folk Festival goer. Maybe she was mistaking me for one of the acts. This episode remains one of the unsolved mysteries of Newport 2011. I guess it's good to have a couple.
Today's Peter Pan ride was speedy and without incident. We pulled in at about 1130AM and I hustled to up the street to the water taxi. No folk legends greeted me on the journey—just the Call Girl—the name painted on the tiny vessel's side.
The Early Show
12:20
Early Sunday afternoon was the quietest I ever saw Fort Adams. There wasn't even a crowd at the Stonehill Yogurt booth, and they were giving out free milk and cookies. Milling about toward the Fort Stage with my fellow straw hats, I heard the distinctive voices of the attractive boy/girl front persons of David Wax Museum, a Cambridge band who plays original music heavily influenced by Mexican folk.
"Who wants to live in a nation in decline!" I heard them shout over their closing chords. This group had gotten quite a bit of press for their "breakout" performance at last year's festival. This year they had the biggest stage, but kind of a bum slot. No one was gathered in the front-of-stage standing area, so the applause felt a bit tepid.
 When I moseyed over to the much more densely crowded Alex & and Ani Harbor Stage, I saw trio of cute, skinny girls, one in a bonnet and specs, making an Enya-like harmony with some live beat boxing underneath it.
 This, it turned out, wasMountain Man.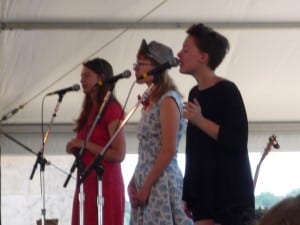 A quick informal straw poll of their audience thought they were probably The Secret Sisters, another girl trio, who were on at the same time over at the Quad Stage.
But this was Mountain Man. A skilled vocal group from Vermont who alternately chirped, cooed and purred an old timey repertoire that would have been at home on the "O Brother," or "O Sister" records.
"This is the last day of a month long tour," said one of the girls, pattered one of the girls, "and my Dad's here which is pretty cool.
"My Dad's at home with my cat," offered another.
I'm telling, you, these gals are NPR-ready!
My Pick for Best act of the 2011 Festival: Carolina Chocolate Drops
12:40
Speaking of NPR, it was their spot on Fresh Air that introduced me the fabulous Carolina Chocolate Drops, a group of virtuosic, multi-instrumentalists, vocalists and folk historians, with a beat boxer. These young indie folksters learned the old, old songs and the old instruments from the original old black dudes on their South Carolina porches. They've also dug deep into old used vinyl and wax and they site their sources with evangelical fervor.
For all of their digging through dusty archives, there was not a mote of dust on their sound, or on their live performance, which featured guitar, gourd banjo, mandolin, fiddle, harmonica, jugs, kazoos, bones, panpipe, an array of styles and tempos, instrument swapping, vaudevillesque patter, dancing, scatting and call-and-response.
Not for nothing, these guys had the oft-uptight Newport crowd jumping, screaming, clapping and singing, and they never once had to disparage their audience's energy to guilt or prod them into doing it.
 The Drops have recently lost one of their three founders, Justin Robinson.
"We lost him to school," announced the operatically trained soul singer, kazoo virtuoso and fiddler, Rhianna Giddens.
"He decided 'reading is fundamental,' bandmate and fellow founder, Dom Flemons quipped.
They've added New York multi-instrumentalist, Hubby Jenkins who most played Mando at the Fest, and beat-boxer Adam Matta, who continues to bring the hip hop flavor that characterizes the band's best known tune: a cover of Blu Cantrell's "Hit "Em Up Style," with a soaring fiddle line.
Caves, Turtles
11:50
In fairness to the acts who played over the next hour, no one was going to top the Drops for me. Their bridging of traditions, their openness and their energy just seemed to embody the best of the festival. There was a grin beneath my brim as I trotted over to the Alex & Ani stage, on which I saw a dude in a neon yellow trucker cap, a sleeveless tee and bluejeans, offering his gentle tenor into a mic. A guitarist was seated to his left, rocking the grundge look, a mop of long whipped hair rendering the rest of his head completely invisible. These were the Cave Singers, with whom I was not familiar. As usual, I had a hell of time penetrating the tent crowd to get a half-decent photo and I was repeatedly shooed away from the perimeters by the perimeter cops.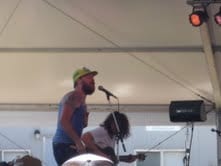 I didn't last long. Back through the arch to the tunneled arch to Quad Stage where an equally dense crowd was packed in to listen to Trampled by Turtles, a quintet of string players in plaid button-downs and jeans.
"It's empty where you are/Just a big gaping hole…" they sang, sliding into delicate harmonies.
It was at this moment that I first realized that for some reason, this The Quad Stage had be relegated as The Bummer Stage. Act after act confirmed this. Not every band that played their was a downer, but every downer act I saw, played there.
I couldn't handle their melancholy energy. It was time for a drink.
 Now, you can't bring alcohol to Newport. There's just two options. There's a beer tent, behind a rope, way off in a secluded corner where you might be able to hear the Quad Stage but you certainly can't see a damned thing, and then there's the press tent, which has luxurious couches, free food, an open bar and often some resting musicians, smoking their cigarettes and pretending they don't see the half-passed out reporters, who are mostly uploading their photos and their blog posts
 I left the press tent refreshed, passing the turtles, who still sounded subdued but lovely, and headed back through the tunnel, and back passed the—wait! Was this the same band? The Cave Singers!?!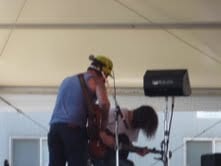 The Alex & Ani tent seemed to be leaping up and down as a collective unit. The yellow trucker cap and slevealess tee shirt were soaked through with sweat, and their owner was red in the face and hollering into his mic like it owned him money.  When the song ended, the crowd roared.
"This is our last song!" the singer yelled and then a thunderous three beat drum pattern just erupted from a kit I couldn't even see, and the whole tent starting screaming and leaping up and down again.
I guess I probably should have stayed for their whole set in the first place.
Wanda Jackson
2:00PM
I quite literally got thrills and chills from the moment I heard that evil growl emanate from Wanda Jackson, a sorceress with a black bouffant and aruffled  crimson dress. The sounds that came out of this woman-of-a-certain age!—a pioneer of female rockabilly recently rescued from obscurity by guitarist-of-our generation/impresario, Jack White.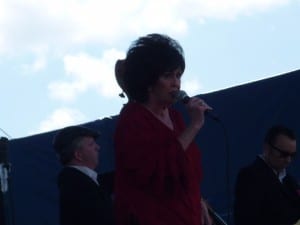 Wanda began by paying to tribute a woman for whom she paved the way and then outlived. She sang Amy Whinehouse's "Like I Knew I Would."  Chills.
The next chunk of the set was dedicated to Jack and drawn from their recent project,
The Party Aint Over, a reference to her 60's hit, "Let's Have A Party," her closer. "Here's an oldie Jack asked me to do," she said, launching into "Gonna Rip It Up."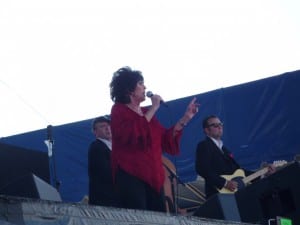 "Jack asked me for one song that I really liked and never had recorded, so I hope you like it too. An Elvis Presley song from the the 60's or early 70's," she announced,  singing "You Give Me Love."
The latter half of her set was dedicated to her original hits and full of charming patter. She revealed that her hit Fukuyama Mama, in which she compared herself to an atomic bomb was bizarrely, a number one hit in Japan, she testified and evangelized heading into her gospel period and she introduced her bandleader Heath Hamels, as the guy who rounds up the band, drives the van "gets you out of jail and pays your child support."
From bombs to Christ to child support: pure country rock.
Justin Townes Earl
3:00PM
 After Wanda Jackson thoroughly rocked my world, it was time to had back to the Bummer Stage for an act I was truly looking forward to: singer/songwriter Justin Townes Earle, son of Steve, denizen of Brooklyn, a true hipster/honky-tonk hybrid. Earle looks the part perfectly. He's tall and lanky with tattooed arms and he wears glasses under his old fashioned hats.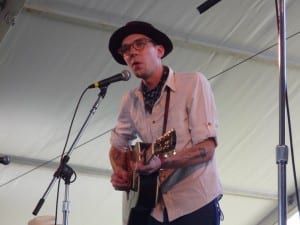 He plays the part perfectly too, singing stories and poems in delicate voice while bearing down on the strings f his acoustic with fierce bite.
The first story he told was about his Mama. I guess this was gonna be a country set too.  "Ladies and gentlemen," he began his rhythmic stream of patter, "the first woman who ever hit me was my Mama…for everything I've ever done in my life, she's been there for me. If you ever said anything bad about me she'd take your head off just like that. Here's a song I wrote for her."
"I am my father's son," began the song, "Mama's Eyes,"  "I've never known when to shut up…"
Earle's band included a great lap steal player and his set featured some killer harmonies. He has enormous charisma and knows how to arrange. After Wanda though, he was a downer. 
Amos Lee
3:25PM
 I'm going to confess here that Amos Lee had me fooled. In a couple of ways. For one thing, I had him in my head as a black dude. I must of only be half listening when I head him interviewed on Terry Gross a few years back. (Yeah, I listen to a lot of NPR. I also go to folk festivals). He is in fact, what you'd call, a singer of blue-eyed soul, as well as a story-telling guitarist/singer/songwriter.
Here's the other way he had me fooled: From radio play, I always thought of Lee as a smooth character, vocally. At Newport, he sounded like he'd tried to swallow a burr.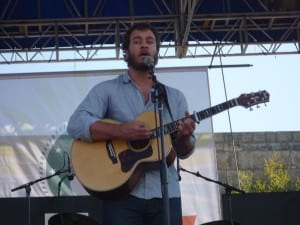 Lee in fact gave one of the most arresting, bone-chilling, soul-tirring performances of the weekend. His voice, powerful and textured, his presence magnetic.  Familiar pop tunes like "Flower" were somehow unrecognizable, not for some novelty of arrangement, simply for unadorned emotional content.
 I got real close to Lee down in the photographer's pit. I'm worried about him. You could see in his face that a deep and profound pain was bubbling up from the pit of his stomach and soaring out of his mouth.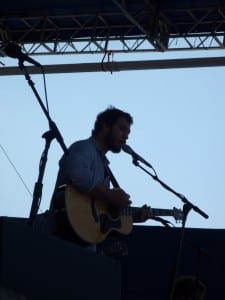 But Lee was no bummer. No sad bastard music here. He has clearly learned how to transmogrify his pain in the best possible musical way, making it feel soothing and joyous.
His vocals burned off my skin and then rubbed in a balm.
Middle Brother
4:20
First off, for those wondering, there was no evidence of 4:20 being celebrated at the festival in any official capacity—unless you used a port-a-potty.
Second, even though Middle Brother, the "super-group" comprised of Matt Vasquez from Delta Spirit, John J. McCauley III of the excellent Rhode Island-based indie-rock band, Deer Tick and Taylor Goldsmith of Dawes played on the bummer stage, they were most decidedly not bummerific. Especially, as it turned out, to the demographic of girls between the ages of about 18-23.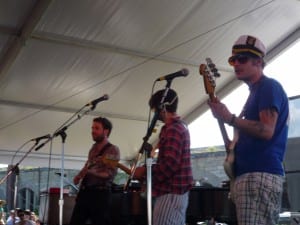 Middle Brother's Myspace Page categorizes their music as "Breakcore." I have no idea what that is. They are an indie rock band. Their sound throws back to simple 60's garage rock. They're hooky and catchy and have unbelievable swagger.
I kind of wanted to hate Middle Brother. I could feel McCauley, a short, skinny kid with tatted arms who wore the ultimate hipster uniform of ironic Walmart tee, shades and a captain's hat, just sneering at everyone.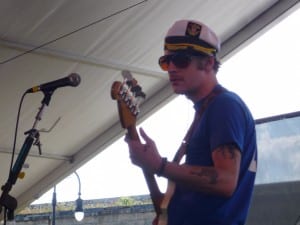 Vasquez too just readiated smarminess. "We haven't even practiced!" he yelled out with delirious self-satisfaction. "We haven't even seen each other since North Carolina!"
I've never seen a band more aware of the presence of photographers. It was like this was their first gig.
The thing is, in spite of all this, I could not hate Middle Brother, because they were extremely good and playing rock'n'roll and they absolutely lit the Quad Stage crowd on fire. Also, they invited Mountain Man on stage which was adorable.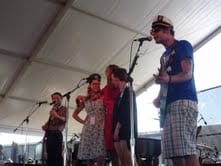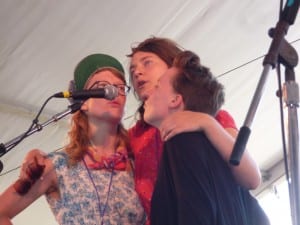 Elvis Costello
4:45
I'm convinced that Elvis Costello had the most fun of anyone at the Newport Folk Festival. He was absolutely ebullient in his seersucker suit, straw hat and shades with his plug-in acoustic.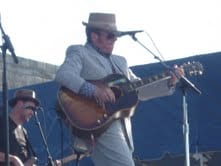 It's funny—I wasn't really sure what Elvis was doing here—how he fit in…I mean, I know he's covered a lot of generic ground, but he's essentially a British pop star. I got the sense from Elvis that he felt almost the same way. Like he was a gate crasher at a glorious party. His buoyancy was such a refreshing contrast from the ironic indies, and tortured country stars, and mellow pretty melody makers as he blasted through The Band's "This Wheels on Fire," and his own " Chauffeur to Sugarcane," a swampy stomper.
"All of the photographers are leaving!" when we're kicked out of the pit after the second song. "You should at least stay and dance!'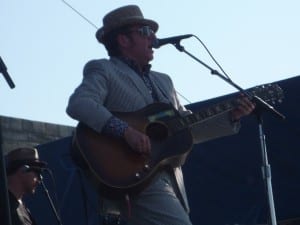 After "American Tears" with some successful call and response and a melodica, he started calling up guests to join in the Elvis Costello Revue. The first were the Secret Sisters, who sang a few backup harmonies on a rag Elvis said he imaged as a 20's song, "A Slow Drag With Josephine.
"You want sing one of your own?" he offered, classily. They sounded beautiful.
Elvis played some rockers, an up tempo, "Cry, Cry Cry" followed by "Dancin' the Night Away," and then he called up Chris Healy of the Punch Brothers and Crooked Still and then he brought of the festival's closer, EmmyLou Harris, to sing "We Will Rise Above" and an up-tempo "What's so Funny 'Bout Peace, Love and Understanding." The first notes I heard EmmyLou sing absolutely pummeled me in the heart. Way to share the stage, Elvis.
 M. Ward
5:50
Before I got to hear more of EmmyLou, I had one more urgent mission to the bummer stage: M. Ward, one of the most creative and emotional of the indie rock singer/songwriters.
My first look at M. Ward sent me into the same shocked disbelief I'd had with the brothers Felice. That deep, echoing, mournful voice I'd heard in recordings was emanating from what looked like a short, skinny kid! It was inconceivable. I've since learned that M. Ward is in his late 30's. He looks about 16.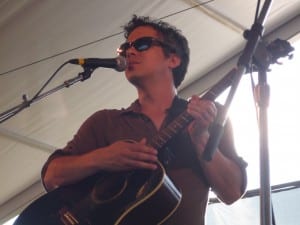 Once I got over that, I was deeply impressed. I'm used to hearing M. Ward's voice mediated by an echo mic and confined to a safety zone of about 2 chords. All the nets were down as he sang "Chinese Translation" ("What do you do with the pieces of a broken heart?") and "Sway" with blistering whispers and solemn harmonica interludes. It was beautiful. And sad. So, so very sad.
What's more, Ward spoke as if fighting back a lump in his throat, with ominous ambiguities and long, tortured pauses. He seemed Brian Wilson-like, as if he had just immerged from being locked up in a room for many weeks.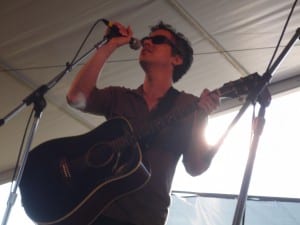 "This guy is great," I thought to myself. "I'm calling in a suicide watch. (I might ask them to check on Amos Lee, while they're here, too.)"
EmmyLou Harris
6:05
EmmyLou Harris, who began her set with "Orphan Girl," was the perfect Newport closer. She is a heartfelt storyteller with an instantly distinguished, rich, powerful, feminine voice. Storytelling is what she did all night. She described herself as a girl, buying Dylan Baez records and dreaming of what this festival might be like.  She sang "Me and Lilly," and the gorgeous soliloquy that is Merel haggard's "Current River" with an accordian underneath.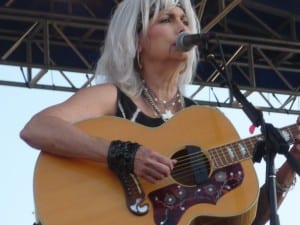 "This song is about—oh you know this song—by one of our great singer/songwriter poets" she said before letting Townes Van Zandt's ballad of "Poncho and Lefty" speak for itself.
She told about witnessing civil rights struggles in the south and the need to remember and then sang about Emmet Till…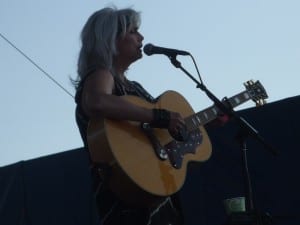 My heart was full to the brim as I headed away from the Fort Stage.