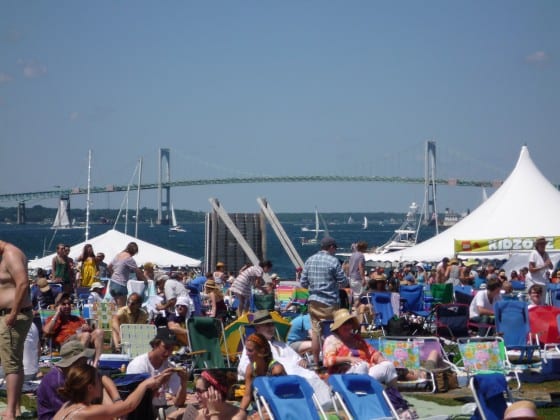 The Peter Pan
10:15AM
The journey begins with the Peter Pan. I'm bussing it from Boston. 90 minutes each way. $52 round trip. I've never been to the Newport Folk Festival before and the line for the bus offers an informal survey of what I might be looking at in a festival crowd. Behind me, a tattooed waif is loudly describing the composition of her drum kit.  Her companion has broad shoulders and skinny jeans. Near by us is a bald dude with a 3-foot beard wearing a Beatles tee. It's the clean-cut Beatles with the grey suits.
A teenaged couple is decked out in eye-burning ensembles: white tees tucked into tight white jeans with white socks and white tennis shoes. They're like White Stripes costumes. There are middle-aged women in loud sundresses, and men with a certain aging boomer look: hair gone on top but long in the back, glasses, slight paunch, khakis. Funnily enough, it's easy to imagine huge swaths of my musical taste overlapping with these busmates. I guess that's why the festival works.
Once I'm on the bus, I quickly tweet some findings. Then, I unplug. No podcasts, not even music. I just want to think about my parents' old records and their tales of coffee houses in Philly and Cambridge, and about the thuds of all those harmonicas that all of those kids pelted at the stage when Dylan asked if anyone had an E harmonica in that footage from '65.
All this when it's really Delta Spirit, and Gogol Bordello, and Devil Makes Three that got me out of bed this morning. I guess that's also why the festival works.
The bus breaks down about 1 mile from the Visitor and Transportation Center in Newport. Everybody off. Horrible smell of burning. The crisis is short lived, but it costs me some opening acts.
The Old Man on the Water Taxi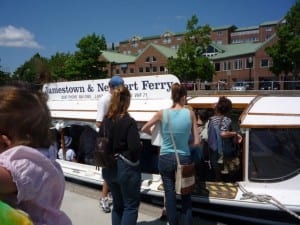 12:45
 From the Visitor and Transportation Center, you walk a block to the water taxi that takes you to Fort Adams State Park. $10 round trip.  Waiting in line, I noticed an old man in a denim shirt, faded trousers and sandals with a banjo case strapped to his back. His face struck me like a lighting bolt—is that—?
I hung back and listened to him chat with some other line-waiters. "The thing is, I'm supposed to sing at this festival," I heard him say, adding that he didn't want to sit in a car in this traffic. His conversants smiled and nodded as if not knowing what to say, and I watched him find a seat on a patch of grass in an island of concrete while he waited for everyone else to board. A beautiful young woman with a guitar case strapped to her back led him onto the tiny boat and they sat together quietly. I tried to restrain myself, but I couldn't take my eyes off of them. Finally I got the nerve to walk over and ask them if they were playing in the festival.
"I'm here to tell a story and sing a song on someone else's program," the man said with a bouncy rhythm that was instantly familiar.
"Who are you going to play with?" I tried.
"Just by myself." His companion grinned.
I explained that I was covering the festival and asked for his name. He responded in a near whisper.
"Seeger. Pete Seeger."
So, wow. You don't want to go up to the first old man with a banjo that you see on your way to a folk festival and say, "Hey, are you Pete Seeger?" But there you had it.
Polite as he was, it was clear that Seeger wasn't looking for attention during the ride, so I resisted my desire to delve into his stories of the old days and find out where he stood on today's music and politics.  Not in an ambush with only a few minutes until we reached the shore. But I did ask if I could take a picture for my story.
"Take both of us," he said, meaning himself and his companion, who introduced herself as Moraya Seeger, Pete's granddaughter. "You can say 'Pete Seeger on the ferry to the festival.'"
Pete and Moraya had come to support a performance by Pete's grandson Tao, with the Seeger Clogging All-Stars. Many of the festival's headliners were as star-struck by Pete as I was.
"You know you're in the right place when you're backstage with Pete Seeger, watching Wanda Jackson!" Elvis Costello exclaimed from the stage on Sunday. EmmyLou Harris, who followed Costello to close the whole shebang started by asking how we'd been blessed with so much sun throughout the weekend. "It's probably Pete Seeger," she postulated.
The Scene
Newport seemed to define "folk" as almost anything roots-inspired. True to the crowd on the Peter Pan, the festival drew a range of ages and tastes by booking an impressive mix of legendary traditional folk stars (Earl Scruggs, Ramblin' Jack Elliot), big-name rock and country crossovers (EmmyLou Harris, Giilian Welsh & David Rawlings, Elvis Costello), indie rockers with singer/songwriter chops and/or acoustic repertoires (Delta Spirit, M. Ward, The Decembrists), up-and-coming traditional folk groups (Carolina Chocolate Drops) and young folkies on the bar and coffee shop circuit (David Wax Museum, Mountain Man).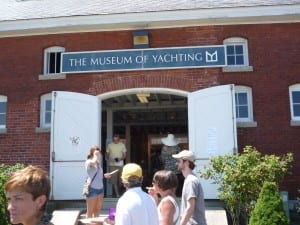 Festivalgoers were likely to get hit with a mixture of salty air, and the sounds of strings and harmonies from the moment they stepped off of the water taxi.  Near the entrance to Fort Adams, home of the Museum of Yachting, was the Alex and Ani Harbor Stage, a small, densely packed, and tented area, with viciously policed perimeters to avoid traffic jams (murder on photographers). This is where the bar and coffee shop stars played.
And I do mean the stars of the circuit here. So not that woman who strums a few chords and beats her guitar with palm of her hand while singing her one quirky dating song followed by awkward patter and then her tale of the day the stained glass window of the church in her home town was shattered, and wasn't it symbolic? Nor that sensitive dude in the flannel with the smooth, whispery voice who sings about the hard times outside the window of his Brooklyn coffee shop. Those folks were not represented.
On Day One, I caught a set there by the great Ellis Paul. He was playing in a "song circle" with Dar Williams, John Gorka and Liz Queler & Seth Farber who told a story about playing for a crowd of "five muddy people in raincoats" at their first festival, and plugged "The Edna Project," an upcoming album which sets the poetry of Edna St. Vincent Malloy to music.
Wrapping along to the east of this tent, a labyrinth of familiar hippie/New Age craft and food venders led the way to the Fort Stage, where most of the biggest headliners play. This is the stage with the giant LCD screens, and the vast patchwork of blankets and tarps brought by those who choice to camp in front of it for the duration. There are a lot of these, and precious few aisles, which makes mobility pretty frustrating. The nice thing is, if you needed a break from the crowds, you could always take a two-minute walk to the shore and watch the sail boats and kayakers.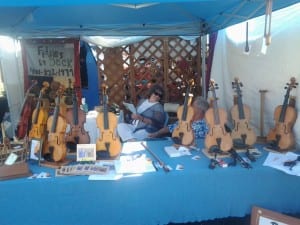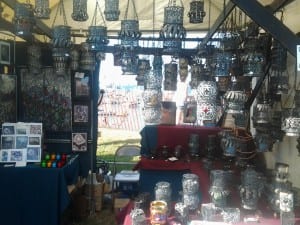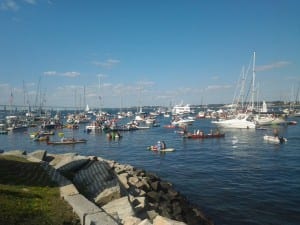 To get to the third stage, the Quad Stage, or as I came to call it, the Bummer Stage, you had to follow the labyrinth back passed the Alex and Ani Stage (where a good enough band could stop you in your tracks), wrap around to the west and walk up a tunneled ramp in Fort Adams to a separated patch of land.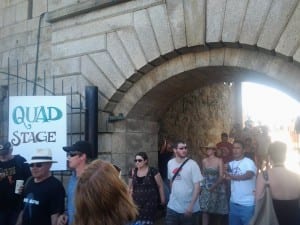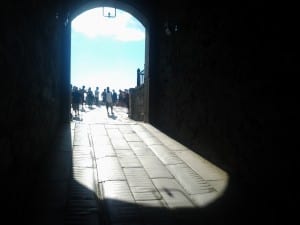 The Quad Stage did host the festivals two true rock bands, Delta Spirit and Middle Brother. It was also blessed by the Seegers. For some reason though, the majority of its acts, including headliners, Justin Townes Earl and M. Ward, were clearly rocking the sad bastard side of things.
For the goods on these and other acts, including pictures, stories and reviews, check out parts 2 and 3 of the Journal.