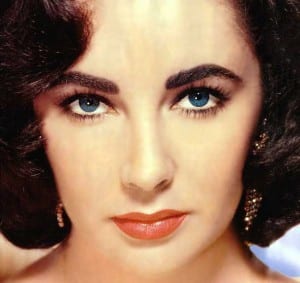 Elizabeth Taylor died this morning of heart failure at Cedars-Sinai Hospital in Los Angeles, where she was being treated for the past several months.
Taylor's son Michael said in a statement: "My Mother was an extraordinary woman who lived life to the fullest, with great passion, humor, and love. Though her loss is devastating to those of us who held her so close and so dear, we will always be inspired by her enduring contribution to our world. Her remarkable body of work in film, her ongoing success as a businesswoman, and her brave and relentless advocacy in the fight against HIV/AIDS, all make us all incredibly proud of what she accomplished. We know, quite simply, that the world is a better place for Mom having lived in it. Her legacy will never fade, her spirit will always be with us, and her love will live forever in our hearts."
Taylor was a Hollywood icon, one of the last great stars from an age gone by. Her fame is captured not just by her movies, including classics such as "Who's Afraid of Virginia Woolf," "Cat on a Hot Tin Roof," and "Cleopatra," but by her enduring celebrity, characterized by her eight marriages, lavish lifestyle and outspokenness.
Though Taylor had long-since retired from acting, her fame has endured since days as a child star in the 1940s. Taylor had enthralled audiences since she was 12, when she starred in 1944's "National Velvet", still the definitive girl-and-her-horse movie. She transitioned into adult roles in 1950's hit comedy"Father of the Bride" and the 1951 tragedy "A Place in the Sun." Throughout the 1950s and early 1960s, she was one of Hollywood's premier screen goddesses, equally at home in glossy epics like "Giant" (1956) and serious Tennessee Williams adaptations like "Cat on a Hot Tin Roof" (1958). She won her first Oscar for Best Actress for her role as a promiscuous model in 1960's "Butterfield 8."
She is perhaps most often associated with 1963's "Cleopatra", a four-hour-plus saga that remains one of the costliest flops of all time. Taylor ultimately earned $7 million for the title role, including $1 million up front, making her the highest paid actress ever when accounting for inflation. The film also remains the most-expensive film ever made, when adjusting for inflation. Despite the setback, she bounced back with her Oscar-winning performance as a professor's bitter wife in 1966's "Who's Afraid of Virginia Woolf'", a film whose blunt language and sexual subject led to the demise of the old Production Code, leading to the movie ratings system Hollywood has used since 1968. Taylor's final big-screen appearance would be a cameo as Fred Flintstone's mother-in-law in 1994's "The Flintstones."
Fascination with Taylor persisted in part because of her many marriages, most notably, her tumultuous on-again off-again relationship with Richard Burton, many times her costar and twice her husband. Taylor's first marriage, to hotel heir Nicky Hilton, lasted from 1950 to 1951. She was married to Michael Wilding from 1952 to 1957. She married movie producer Mike Todd in 1957, but he died in a plane crash a year later. Her next husband was singer Eddie Fisher, causing a scandal when he left wife Debbie Reynolds for her in 1959. Taylor, in turn, left Fisher for Burton, to whom she was married from 1964 to 1974, and again from 1975 to 1976. She was married to Virginia Senator John Warner from 1976 to 1982. She met her final husband, a construction worker named Larry Fortensky who was 20 years her junior, when both were patients at the Betty Ford Clinic; they were married from 1991 to 1996.
Long after she retired, Taylor's magnanimous presence kept her a public figure, thanks to her philanthropy and her championship of underrepresented causes. After her "Giant" costar Rock Hudson's death from AIDS in 1985, Taylor became one of Hollywood's first  advocates and fundraisers for AIDS patients, in an era when victims and sympathizers were shunned and marginalized. But beyond her generosity, her frequent marriages,strange tabloid-esque friendships with celebrities such as Michael Jackson, and sheer celebrity often kept her in the news. With her passing, a star of unparalleled proportions passes into the night.
Taylor leaves her four children, 10 grandchildren, and four great-grandchildren.