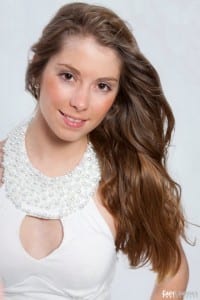 Emmalyn Anderson and Lindsey Vinson are two best friends who have learned that they can have the best of both worlds—a great friendship and promising careers.
Anderson and Vinson are both staring in the newly released miniseries "The Adventures of Young Tessa,"  now available online at missionparkmovie.com and soon on DVD.
The miniseries is based on the Mission Park movie, which takes place in Boston and features the superhero characters Tessa Faux, played by Vinson, and Cherry Pie, played by Anderson. The miniseries goes backward in the life of Tessa and reveals her background story and how she became the person she is in the movie.
Anderson describes Cherry Pie as "a sweeter character, which fits my personality a lot better. [Vinson's character] is very crazy out there, (and) very bold.  It is exactly like how we were in high school!"
Anderson and Vinson are childhood friends who bonded over their modeling interests and have continued to support each other in their acting career efforts.
"Basically we just clicked," said Anderson. "We found that we share a lot of similar interests and we are both very honest with each other." Vinson added, "We're not afraid of anything. We just say it how it is."
Making the transition from modeling to acting was somewhat seamless for the both of them. Anderson said she applied the same skill set from modeling to acting in that both require her to smile regardless of how she feels. Vinson said she performed in plays and musicals as a child so pursuing television and film was a natural transition for her as well.
Filming for the miniseries was not easy, however. The hour long episode was filmed in only two days in 12 hour sessions. Also, since the entire film was shot in one room and in front of a green screen, the actresses had the added challenge of positioning their movements in ways that did not contradict the background behind them. Additionally, the Cherry Pie character has a superpower of making others look like her, so Anderson had to play the role of eight different characters. "It was really challenging," she said.
While two are physically far apart, with Anderson living in Boston and Vinson living in New York, they were able to overcome the distance. Before shooting, they practiced their lines via Skype for hours.
The two friends get along pretty well off screen so they were excited to play roles on screen that sometimes clashed.
"We never actually fight the way that they asked us to [in the film], so it was really fun pretending to kick the crap out of each other," said Anderson.
Vinson and Anderson only filmed the one miniseries episode but there are plans for separate episodes for all of the other superhero characters in the Mission Park film. Each one will follow a similar style—depicted in black and white with highlighted characters in color to simulate a comic book.
In the meantime, Vinson and Anderson plan to stay busy with many other opportunities. From shooting commercials, to music videos to acting roles on television shows, they seem to be steadfast in their career objectives.
"It is impossible to know anything we are doing for the next week because it changes," said Anderson. "It is highly unpredictable. We can't tell anyone what we are doing because we don't even know yet!"
But the one thing we do know is that it looks like these two will be friends for a long time.