Warning: this play will probably cause you to fight with your date. A superbly acted battle of the sexes, "reasons to be pretty," can nevertheless feel like little more than a series of mundane, repetitive spats between lovers, its characters not merely prosaic but inarticulate; yet I am convinced that Neil LaBute wrote this prize-winner in some kind of arcane code.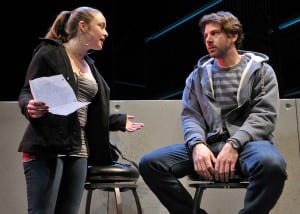 Hated words like "irrational," "shrewish," and "hysterical" are likely to rise in the minds of men watching Angie Jepson's Steph channel Kali the Dark One in response to an off-hand remark about her appearance made by Greg (Andy MacDonald) her affable Jim Halpert-esque boyfriend. Greg insists he was cajoled by Kent (Burt Grinstead), his insensitive, alpha male co-worker and frenemy, and after all, there's nothing so terrible about his one little slip. Women, are likely to hear Greg as a clueless, self-righteous, rationalizer.
Steph and Greg's quarrel is intimately intertwined with the relationship between the aforementioned Kent and his wife Carly (Danielle Muehlen). Carly is also Steph's best friend and also a security guard for the company at which Greg and Kent unload heavy boxes all day, and the one who reported the bomb-dropping, war-starting remark in the first place. Carly gets under a man's skin. She's flirtatious, manipulative, vindictive; she seems desperate for any kind male attention and frustratingly proficient at getting it.
Am I getting myself into trouble here? Doubtlessly. I'm sure she can just as easily be seen as a vulnerable, understandably insecure woman in a man's world, loyal to her friend and more sinned against by her loutish mate than sinning.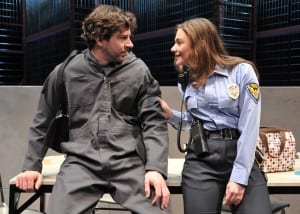 However you see them, you see all four of these characters get hit in their most vulnerable spots and therefore scheme, dodge, weave and pummel the most important people in their lives: each other. It's a pretty good character study, likely to magnify some all too familiar behavior and to provoke some—well discussion at least— although I do think LeBute wraps things up in too neat a package in the second act.
One thing is for sure: Director Paul Melone and a dynamite cast and design team mine this tale of blue-collar self-doubt and inter-gender tension for all its worth.
Speakeasy Stage Company presents "reasons to be pretty' plays at the Calderwood Pavillion at the Boston Center for the Arts through April 2.