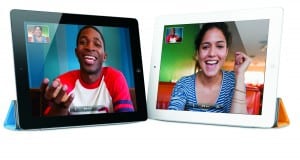 In a move that surprised pretty much no one, Apple officially unveiled the iPad 2 to the world yesterday. What may surprise you though is that the new models release date, March 11, is just days away.
While the new model doesn't feature anything revolutionary, it does feature an impressive feature set that improves on the original. iPad 2 features a 33% thinner frame than it's predecessor; going from 13.4 mm to just 8.8 mm (which makes the iPad 2 smaller than even the iPhone 4). The iPad 2 also fixes what many thought was one of the original's biggest flaws by making the unit 15% lighter.
On the tech side the iPad 2 features a brand new dual core processor known as the A5. Accodring to Apple, the new processor is twice as old as the original and allows the graphics performance to run remarkably better. As expected, the new model also comes packed with many of the features that the rest of the iOS family can already claim, including front and rear facing cameras that allow for face time and the ability to shoot videos in 720p (and yes, this iPad will have an HDMI output) along with the gyroscope technology seen in the iPhone 4.
What hasn't changed? The pricing structure. Just like the original model, iPad 2 will retail for $629-$829 depending on the model.