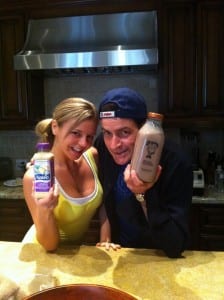 Charlie Sheen just joined Twitter Tuesday and has already reached 1 million followers today.
His first tweet was "Winning..! "Choose your Vice…."
Yes he is definitely a winner on Twitter.
He also randomly tweeted to P. Diddy saying, "@iamdiddy Get dressed my man… sending the driver..!"
Currently, the once, former, and possible future "Men" star is following P. Diddy, Alyssa Milano, Howard Stern, Piers Morgan, former Limp Bizkit frontman Fred Durst, Nicky Hilton, Sarah Silverman, Minka Kelly, George Lopez, Will Arnett, boxer Floyd Mayweather Jr., and baseball stars Brian Wilson and Nick Swisher. Plus, he is also following his girlfriend Rachel, whose porn actress name is Bree Olson.