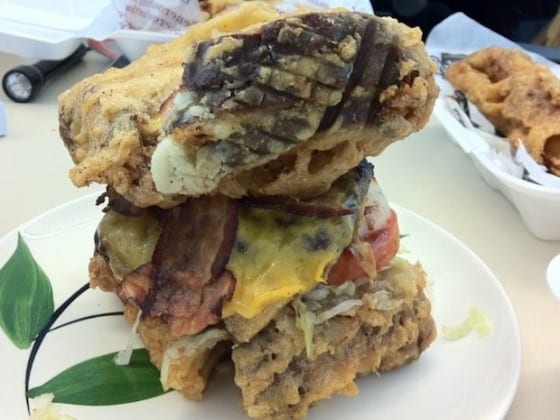 Hey KFC, the Double Down has just been trumped.
In a recent interview with Game Informer Magazine, Sony's made up VP of pretty much everything (that we named our Face of Gaming for 2010) said that his favorite sandwich is made from two Monte Cristo sandwiches (ham, turkey and swiss dipped in french toast batter and fried) used as buns with a bacon cheeseburger in between.
Leave it to the folks at NPR's Wait…Wait…Don't Tell me blog to actually make the sandwich in their weekly sandwich report (Don't laugh, it's a real thing).  The result is that behemoth to the right.
The result? As NPR puts it "It is undeniably delicious—you can't put that many lipids together and not make something tasty."
Oh, and don't worry, Kevin Butler says that the best way to eat the sandwich is with a Diet Coke…health is important folks.