For years, lovers have given generic and boring gifts to their significant others on Valentine's Day.  Collections of drugstore chocolates, cheap perfumes and colognes and crappy "romantic" candles that are said to set the mood have become a rut that gift givers turn to.
In the spirit of the new year, we at Blast suggest that a new standard be set for Valentine's Day gifts. Boston establishments such as Beacon Hill Chocolates, Condom World, Sweet & Nasty and LUSH Cosmetics raise the bar for Valentine's Day with their unique, fun gifts that put a spin on traditional choices.
Beacon Hill Chocolates
91 Charles St.
617-725-1900
www.beaconhillchocolates.com
Forget that heart-shaped box of cheap chocolates! On the brick streets of Beacon Hill lies aptly named Beacon Hill Chocolates, a gourmet chocolate store that prides itself in its unique keepsake gift boxes and artisan chocolates.
The company, which will be celebrating its fifth birthday this April, imports rich chocolates from chocolatiers in Belgium, France and a local business in Natick, Mass., called Cocoa Pod.
Rebecca Novak, the manager of the store, said that the big seller for Valentine's Day this year will be the handcrafted keepsake boxes. Chocolates for Valentine's Day may not be original, but with these decorative decoupage-style boxes designed with vintage postcards, lithographs, illustrations and photographs, customers can mix and match any type of chocolate truffles they want.
"It's personalized," Novak said. "You can't find the boxes anywhere else."
Out of the hundreds of artfully crafted truffles and painted hearts, Novak personally recommends the heart-shaped Cognac Caramels or the Brownie Bite Truffles. Other special items to look out for include the Caramel Sushi, Salted Caramel Fudge and the over-sized Chocolate Conversation Hearts.
It's advisable to place custom orders a week prior to Valentine's Day, especially for the fresh chocolate-covered strawberries that will be available this year.
Condom World
332 Newbury St.
617-267-7233
www.condomworldboston.com
Upon entering Condom World, the popular X-rated store on Newbury Street, the first thing that stands out is a swaying clock designed to look like two cows "doing the nasty."
Mike Morrison, the store's manager, thinks that couple-related products will be the best sellers this year for Valentine's Day.
"Love is in the air and we're a sex shop," Morrison said.
Rather than look at items that are separate for men and women, Morrison motions towards products that couples can use together. Items such as vibrating rings, edible body lotion and lube, dirty dice, books of "coupons" that merit sexy activities such as "one hot bath together," and body paint pens allow for shared Valentine's Day gifts.
Various other items around the store include Kama Sutra books, naughty costumes and masturbation items for those who are celebrating the holiday alone.
The wall-length stretch of vibrators and dildos may be intimidating at first glance, but the fun, hands-on nature of Condom World gifts goes unmatched for Valentine's Day.
Sweet & Nasty
90 Massachusetts Ave., # 90A
617-266-7171
www.sweet-n-nasty.com
Looking for a sweet treat besides the usual box of chocolates? Take the train to Hynes Convention Center and buy a couple of chocolate penis pops from Sweet & Nasty erotic bakery.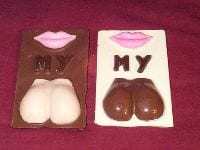 Niki Novak, the owner of Sweet & Nasty, dove into the erotic bakery business in October of 1981 and has been going strong for 30 years.
When visiting her sister in New York, Novak had her first penis cake experience and it was about as appetizing as corrugated cardboard.  This served as a springboard for Novak to open her own erotic bakery with naughty goods that tasted great.
All the big sellers for Valentine's Day are edible, such as G-strings, booby tassels, handcuffs and anatomically correct body parts.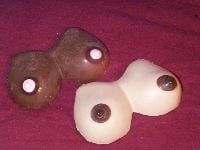 "It combines chocolate, sex and love," Novak said, describing the essence of her work.
The light-hearted humor behind the Valentine's Day gifts from Sweet & Nasty replaces the typical serious romance theme of the holiday. Lovers may not wish to propose to their significant others with a chocolate mold of two pigs "making bacon," but it's items like these that show that some thought was put into the gifts.
Novak says it's typical to hear customers say, "This would be perfect for so and so" or, "Oh my God, this is so gross."  She explained that the most disgusted customers end up making the final purchases.
Anyone who wants some Buxom Bettys or Bite-Sized Tit Pops should place orders sooner than later.  Two to three days prior to Valentine's Day at Sweet & Nasty can only be described as a mob scene.
LUSH Cosmetics
166 Newbury St.
617-375-5874
www.lushusa.com/shop
Perfume and cologne are one of the many generic "go-to" gifts for Valentine's Day.  If anyone is considering the gift of scent, the one store on Newbury Street that you can smell from a block away is calling out to lovers this year.
LUSH Cosmetics is the candy land of homemade bath bombs, soaps and all that smells wonderful.
Sarah Hewitt, the manager of the Newbury Street location, says that one of the best sellers for Valentine's Day is the Sex Bomb bath bombs.
"Sex Bomb is the ultimate sensual bath bomb," Hewitt said.
Items such as Sex Bomb and the limited edition Valentine's Day products are better than ordinary perfumes because they are made of natural aphrodisiacs that set the mood for the holiday.
Some of the limited edition bubble bars, bath bombs and soaps that are sure to sell out quickly are Magic Mushroom, The Ex Factor, Frog Prince and Love Birds.
Gifts from LUSH can range anywhere from $4 to $200.
Popular scents that Hewitt recommends are vanilla, chocolate, rose and jasmine.  These scents can be found in many of the massage bars, and not only do they smell good, but they lend themselves to romantic back rubs.
LUSH's soaps and unique fragrances can replace the cheap cologne gift as well with scents like Demon in the Dark, Ice Blue, Sea Vegetable and Karma.  The masculine scents smell lovely without being too overpowering.
If you find yourself single and sad, grab a Blackberry bath bomb and spend the holiday smelling bergamot, a natural anti-depressant.