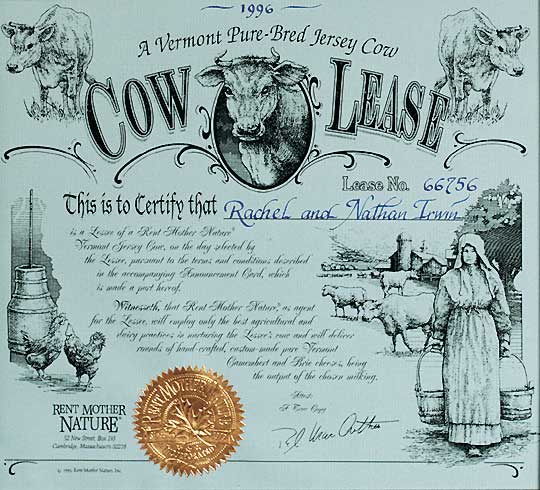 City life has major perks: great bars, restaurants, museums and concert venues abound. For young professionals, there is arguably no better place to be. Sometimes, though, one starts to long for the country, growing nostalgic for fresh air, open fields and the family French Alpine dairy goat.
What, you say? Your family doesn't have a French Alpine dairy goat? Well now, thanks to Cambridge, Mass.-based company Rent Mother Nature, they can.
Since 1979, the folks at Rent Mother Nature have been supporting New England family farms by allowing customers to share in their harvests. The company now also works with farms from across the country and even in other parts of the world; their fair trade organic coffee comes from South America. Customers can rent a variety of products, including trees ranging from apple to pecan, beehives, oysters, cows, goats and sheep.
One of the many great things about the program is that just how much of mother nature you would like to rent is entirely up to you. Don't want a whole apple tree? Rent a branch. Not sure you can handle the 50 ounces of maple syrup that comes with the maple tree lease? Opt for a bucket.
Once you've committed to one of Rent Mother Na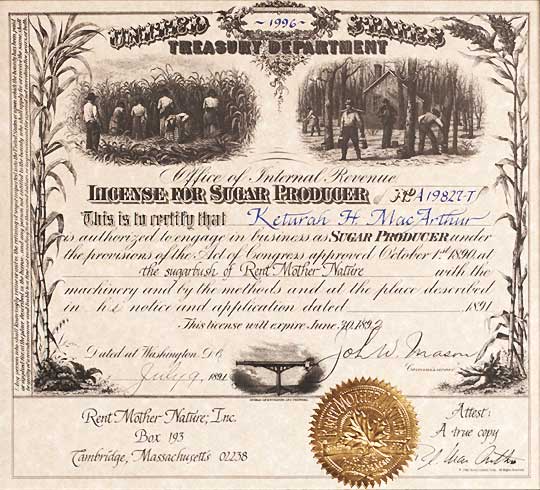 ture's tempting options, you simply sit back and wait for the harvest to be delivered to your door. Rent Mother Nature has an extensive network of farmers dedicated to sustainable agriculture who are more than happy to farm for you.
Though the set of three 5 ounce logs of the freshest chevre possible won't arrive until four weeks after your goat's requested milking date, the lease document ships immediately. This beautifully illustrated certificate is personalized with your (or your gift recipient's) name and is embossed with a gold seal. The maple lease document is particularly cool: it's a reproduction of an 1890 US Treasury License for Sugar Producer printed on parchment.
After the lease document is sent out, the lessee is kept up to date with progress reports about the upcoming harvest and how their little piece of nature is faring. The website notes that, "As a humorous option, we'll even go out and take and action photo of their tree, hive, cow, sheep, or field hard at work and mail it with one of the reports."
If a live action photo of your tree doesn't quell your longing for the countryside, you may have the option to go and visit in person. While some farmers discourage visitors (mainly those working with animals, as they want to ensure a sterile environment), others encourage them. If you rent and apple tree it's well worth it to travel out to the Berkshires to check on it. Not only will you get to say hello, but you will also be allowed to pick a peck, all at the farmer's encouragement.
Once the allotted time has passed and you have become thoroughly acquainted with your field, tree or goat through pictures or a meet and greet, the harvest is delivered to your door. Rent Mother Nature's website boasts that they will "do all the work and you'll get all the raves!" So treat your friends, and yourself, to food as it should be: fresh and natural, right off the farm.
For more information, go to www.RentMotherNature.com.