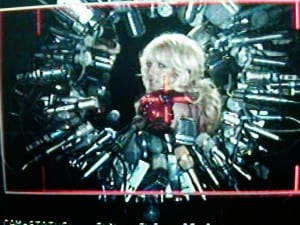 Britney Spears has been filming her "Hold It Against Me" music video and tweeted Monday with the first-look photo, in which she is surrounded by microphones.
She said, "Day 2 is a wrap! #HIAM video coming soon…."
The video is being directed by Jonas Akerlund, who directed the Lady Gaga and Beyonce's "Telephone" video.
"Hold It Against Me" is the first single from Spears' up-coming album, which is going to be released in March.
She also tweeted today, "I'm so excited to see the 1st cut of the #HIAM video next week. I asked for more pics to send to you guys. Hopefully tmw…."