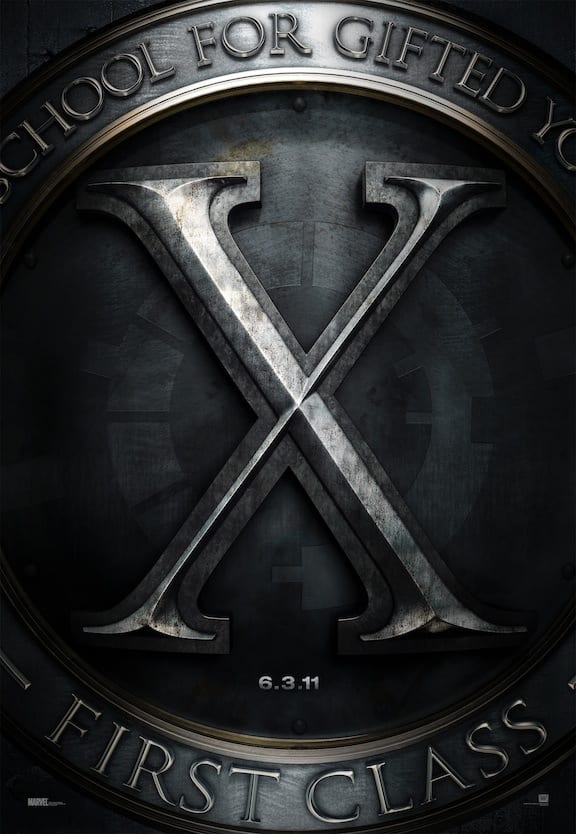 The first pictures from "X-Men: First Class" have hit the internet.
The film is a prequel, and will be set during the 1960s, there era the original X-Men comics debuted in. James McAvoy will play a young, fully haired Charles Xavier. Other characters notable in the posters are Michael Fassbender ("Inglourious Bastards") playing a young Magneto, while January Jones will play the role of Emma Frost, the White Queen.
A full rundown of the promotional posters: Rose Byrne, standing behind Magneto, will play Moira MacTaggert, a love interest and longtime friend of Xaviers. She stands in front of the White Queen, and the last man is Jason Flemying, who plays Azazel, the father of Nightcrawler.
In the other poster, behind Xavier is Jennifer Lawrence, who fans will recognize as playing Mystique. Behind mystique is Zoe Kravitz (daughter of Lenny) who will play a hybrid of different canonical comic book characters, going by the name Angel.
Behind Angel is Lucas Till; he will play Havok, brother to Cyclops. And finally, most will recognize Beast; he will be played by Nicholas Hoult ("About A Boy").
The film will be a prequel to the first three films, though from the 60s to the early 2000s as the first three were set is a great leap. Some of it does seems to make sense though, with a much younger Beast (and Kelsey Grammer was a very old Beast) and a very young looking Mystique. And with Azazel, the father of Nightcrawler making an appearance along with that same young Mystique, who is the mother of Nightcrawler. Seems like a good age for Nightcrawler in the second film too if Mystique getting pregnant is part of the storyline–which you can assume it is.
Having Havok in the film is concerning however. In canon, he's the younger brother of Cyclops, though that doesn't seem likely now.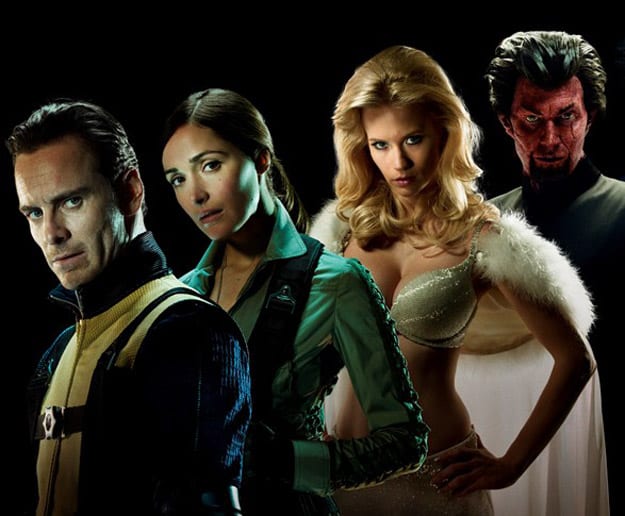 The costumes shown in the promotional material looks pretty cool. They are going with the Blue and Yellow of the original X-Men costumes, and it actually looks pretty good. January Jones is a pretty smokin White Queen too.
These pictures are pretty encouraging of the film to come. Bryan Singer returned to the fold for the film, and has written the story for the film and is producing as well, showing promise from the first two films of the franchise.
Just as great, Matthew Vaughn is directing the film. He directed last year's film "Kick Ass," another film about heroes, and it was a great comic-book adaptation.
It seems pretty late to start seeing promotional work for the film, which comes out June 3 of this year. That will round out a Marvel summer, with "Thor" and "Captain America" also premiering during the season. Either way, expect the comic-book trailers to be coming quick and furious for the coming months.
What do you think of the film's poster, and the first photos of the characters?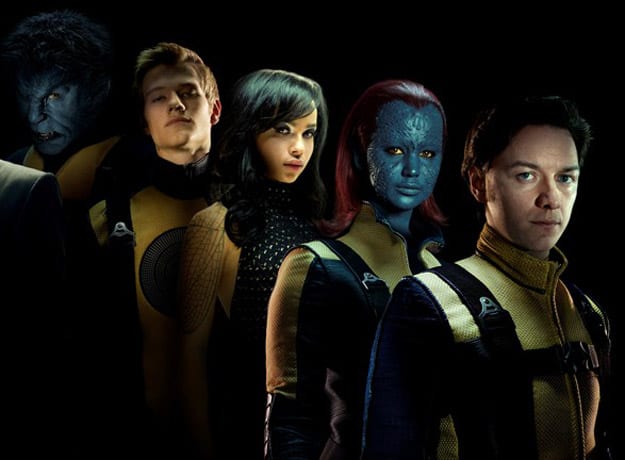 UPDATE: Three more photos!
The "X-Men: First Class" news keeps popping today, with three more photos from scenes in the film.
The first image is the Xavier and Erik playing chess, as they were so fond of doing in the later films.Seems very strange how young the two look. And with two great actors in these roles, its bound to be a great portrayal of the falling out these two had.
The second picture is Kevin Bacon and January Jones, as Sebastian Shaw and Emma Frost. Jones is hot, but I'm not sold on her ability to pull of the character. Kevin Bacon is dead on for the role of Shaw in terms of looks, but he's hit or miss with me, so these two as the heads of the Hellfire Club is something I'm still curious of.
The third picture is of what appears to be the early X-crew, the "first class." From left to right: Caleb Landry Jones as Banshee, Michael Fassbender as Magneto, Jennifer Lawrence as a shape-shifted Mystique, Rose Byrne as Moira MacTaggert, Nicholas Hoult as as human appearing Beast, James McAvoy as Xavier and Lucas Till as Havok.
So now, all these pictures later, what do you guys think of the film?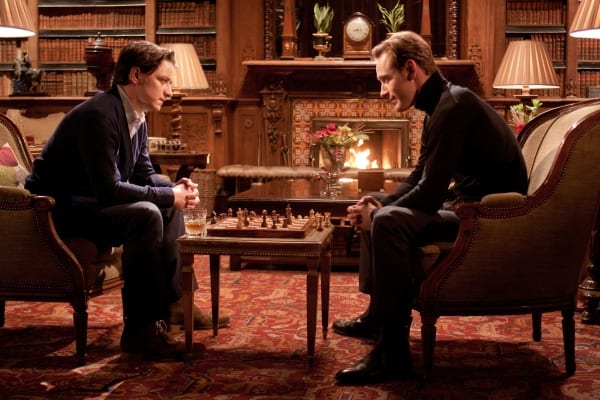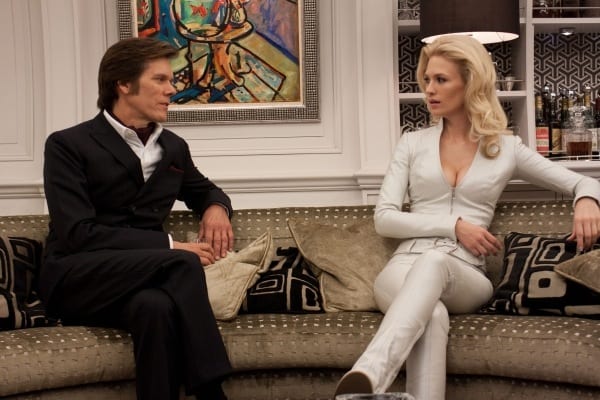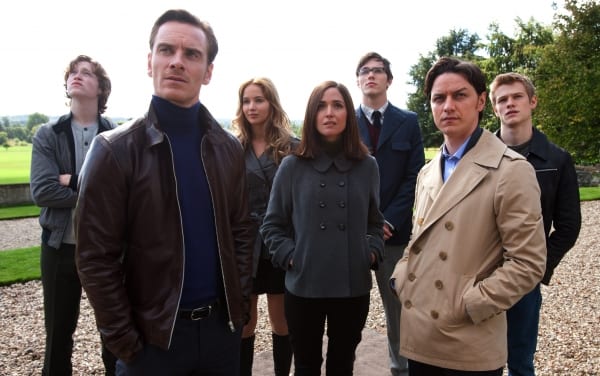 UPDATE 2: So Matthew Vaughn took to his blog today to share his displeasure with the release of the promo pictures yesterday, saying he didn't approve their release. However, it was Fox that sent out the press release, so who knows what unrest is there.
But Vaughn delivered some goods too in his post–when he debuted TWO MORE photos from the film.
The first shows Fassbender as Magneto, in full helmet and all. Looks like there will be some action in this film…
The second shows McAvoy grasping his head, clearly doing something telepathic.
So, here's my initial assessment: What if this is it? What if these two photos–one showing Magneto in action and the other showing Xavier in action–are photos previewing there ultimate fallout? Wouldn't that be dandy. I know they are in two different locations, but neither one of their powers is exactly proximity based. And there would be some form of poeticism if the first time Fassbender put on the helmet was the final part of his fall to evil.
Check em out.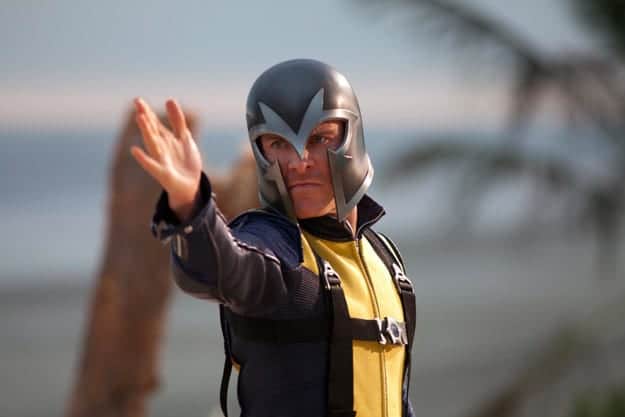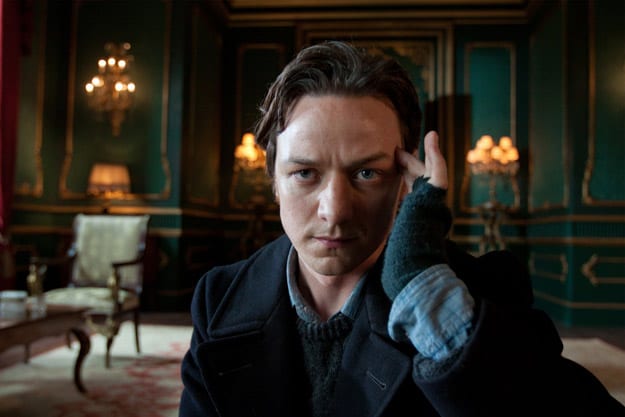 FINAL UPDATE: So, here we are, seven photos, one poster and a day later. Whew. Only thing else that could happen with this film is if the trailer was leaked today.
Honestly, this film has intrigued me from the get-go with the producer, writer, director, cast, story–everything. But I haven't exactly been expecting it like a Nolan-film.
Honestly, it's been going in and out of my mind every few weeks, with little realization that it comes out this summer! But these photos have really put me sharply back into interested mode. I still have some qualms, or at least, concerns and insecurities; But nothing like before.
It's clear that they're trying to tell a compelling story with good actors. I'm a big fan of McAvoy since "Atonement," and Fassbender was one of the best parts of "Inglourious Bastards." The rest of the cast is solid too. The pictures seem to depict what will be a sharp movie–something I shouldn't have doubted from Matthew Vaughn.
So what say you Marvel readers–has this film now been bumped up towards "Captain America" and "Thor" on your comic book must watch list?
And one final thought. We get these three Marvel films this summer–then a WHAM next summer.
Darren Aronofsky will direct a "Wolverine" prequel, which should restore some dignity to that character, Chris Nolan will bring "The Dark Knight Rises" to the screen, while a new "Superman" will also hit theaters. And the coup de gras? Joss Whedon's "Avengers" will hit the screen. Maybe 2012 is the end of the world.