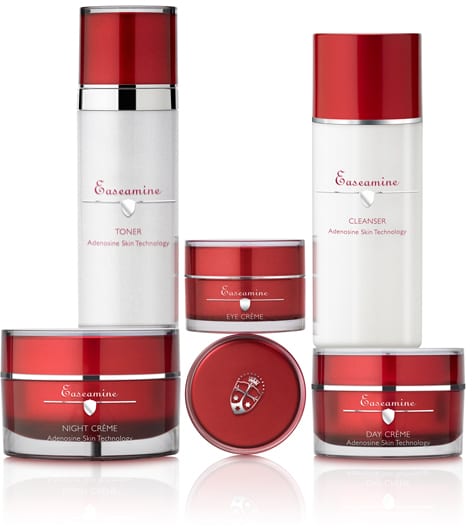 In the sea of anti-aging creams, serums and lotions that floods stores everywhere, choosing what to buy can be dizzying. Rows of products boast ingredients such as retinol, hydroquinone and alpha and beta hydroxy acids, but the new Easeamine Skin Care Collection is bringing a breakthrough ingredient to anti-aging skin care: adenosine.
Adenosine is a naturally-occurring compound found throughout the body that increases the skin's production of collagen and elastin, proteins that reduce the appearance of wrinkles and fine lines. James G. Dobson, Jr., Ph.D., discovered adenosine's skin-repairing qualities at the University of Massachusetts Medical School while researching how aging affects heart function. Through Easeamine's Adenosine Skin Technology, adenosine is delivered to the lower layers of the skin, where it also increases blood flow to the skin's outer layers and increases cell size, making the skin look smoother and fuller.
The company behind Easeamine, Carmel Laboratories, Inc., reports that the skin line also decreases roughness, dryness and sallowness of the skin. In clinical trials conducted by International Research Services, Inc., participants experienced a 38 percent improvement in skin dryness, a 26 percent improvement in skin elasticity, an up to 48 percent improvement in skin firmness, a 22 percent improvement in skin tone, a 40 percent improvement in fine lines and wrinkles and a 42 percent improvement in overall appearance.
"Scientists and dermatologists have long sought topical treatments that stimulate collagen production in the skin," Dobson said. "But until the use of adenosine in Easeamine, the products available were limited to invasive treatments or chemical solutions."
Not only is its breakthrough ingredient naturally-occurring, but Easeamine, unlike many of its competitors, is formulated without parabens, preservatives, mineral oils, artificial fragrance, artificial colors or dyes. Even better? It's American-made, and it's not tested on animals.
Easeamine is sold exclusively online at www.easeamine.com. A portion of the profits — "nearly all," according to the product website — goes towards the Teresian Carmelite, a monastic community in Millbury, Mass., and its charitable programs benefiting the underprivileged through education.
The Easeamine Skin Care Collection
Easeamine Cleanser, $26, soothes, moisturizes and removes impurities from the skin with aloe, marshmallow root extract and grapefruit seed extract.
Easeamine Revitalizing Toner, $29, detoxifies and refreshes skin with witch hazel, chamomile and aloe.
Easeamine Day Crème, $76, is a lightweight, antioxidant-packed moisturizer  with Vitamins A, C and E.
Easeamine Night Crème, $138, helps moisturize, regenerate and restore the skin.
Easeamine Eye Crème, $98, reduces puffiness, dark under-eye circles and crow's feet.