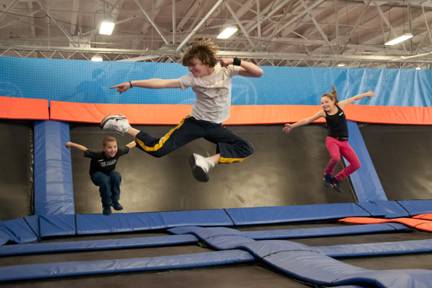 Has the chill in the air got you and yours bouncing off the walls? Just in time for this winter's stir-craze to set in, a new recreational facility has come to Boston's Hyde Park: Sky Zone, a 20,000-square-foot indoor trampoline park.
Sky Zone is a franchised business originating in Las Vegas, and the Hyde Park location is the first to reach the Northeast. Owner Stella Downie said of the location, "Hyde Park is a vibrant, up-and-coming place with lots of young families, artists, and creative people, and that's just the kind of environment we wanted to be in."
Ten thousand of the 20,000 square feet of the building are devoted just to trampoline courts where patrons can participate in "free jump" times or trampoline dodgeball and fitness classes.
For the parents out there who might worry that a group of teens hogging the court will fling their little ones around during free jump, initiating a tear-fest and wasting their $12 per person admittance cost, don't worry; a court monitor guards each area, and it's their job to ensure that the big kids aren't scaring the little kids (or vice versa). Toddler times are also offered, which may pacify any concerns about the mingling of tall and small jumpers.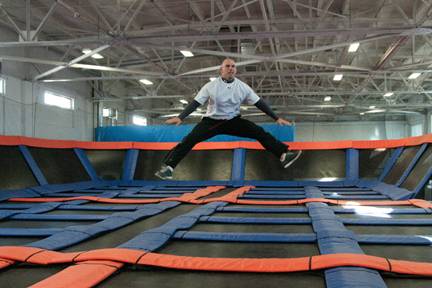 But the big kids get special treatment, too. Sky Zone has "Sky Jam" on Saturday nights, and although it's an ages 16-plus event, Downie said she isn't seeing only pubescent faces on the courts. A large young adult crowd has replaced getting bounced out of the bar for getting bounced around on trampolines.
"Twenty-somethings are having a blast in there," Downie said.
Sky Jam would also be an interesting date spot, whether your intentions are to revitalize an aging relationship or spring into a new one. Downie feels that New Englanders of all shapes and sizes can utilize Sky Zone.
"I don't think there are enough opportunities for healthy recreation that everyone can participate in. We've got long, cold winters here and it's hard to find things to do to stay active and in shape," Downie said.
Whether or not bouncing in Beantown is for you, it's safe to say that Sky Zone provides a new alternative to both fitness and pleasure in Boston.
For more information on Sky Zone, visit their Web site here.