Kia's U.S-based design team in Irvine has been busy with the 2011 Kia lineup.  Kia's longest running  vehicle, the Sportage, now proudly sports the face of Kia with their signature grill, slanty cat like headlamps, tabbed grill outline and the distinctive front fascia. The rounded hood framed by the large windshield design and an authoritative CUV driving position have completely changed the entire appearance of the Sportage which I might add is pretty fierce.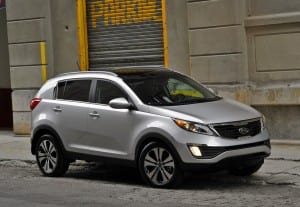 The Sportage now features a longer, wider and lower unibody frame that include front and rear suspension, Macpherson Struts with side-load coil springs. The multi-link suspension system is used in conjunction with new dampers and coil springs mounted separately to minimize intrusion into cabin and add cargo space to Sportage's hauling.  This breaks down to improved handling that responds better to the driver and the new suspension is to provide more protection against road irregularities giving the passengers a more enjoyable ride. However, to say the Sportage has an improved driving style in regards to the previous Sportage, I can't say because I didn't drive one but the new Sportage at times, drives like a tank with a stiff ride being an understatement.
The Sportage is currently available in 5 model variations with the base starting at $18,295 and the top of the line EX with AWD starting at $24,795. The base to EX models all come equipped with a 2.4L 176-hp with either a 6-speed manual transmission or a 6-speed automatic that was first seen on the 2011 Sorrento that was designed and made just for Kia. In January, Kia will release the SX model with a 2.0L 270-hp upgrade in either a FWD or AWD version. I don't know about you but sounds pretty badass. With these price points you are not receiving a barebones roll-up windows with hubcap model either. Kia is becoming known for standard features that other manufactures charge extra for, such as power windows and locks, power mirrors, Bluetooth, cruise and pretty decent radio.  Kia comes with a 10 year/100,000 mile limited powertrain warranty, 5 years/60,000 miles 24-hour roadside assistance, dual front/side airbags, ABS, Rollover protection System, and Downhill brake assist/Hill-start assist which prevent the vehicle from rolling backwards when pulling away from an uphill incline, while the other locks the vehicle at a slow speed down steep inclines. Sportage also earned the top 2010 IIHS Safety pick. The Sportage comes equipped with Ecominder to make sure you're receiving optimum fuel economy with the average ranges from 21mpg in the city and 28mpg on the highway with our week long test at the 23mpg mark that Kia predicts. Not exactly stellar in my opinion but I'm sure with more than a week you could determine the sweet spot to receive maximum fuel economy while zipping around the city.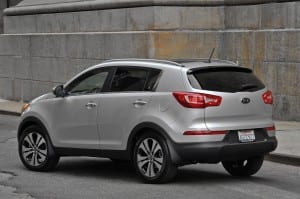 Our EX AWD model came with optional Navigation with Sirius and camera display, Premium audio and leather, heated front seats, cooled driver side (why the passenger side wasn't included is not known?), push button start, panoramic sunroof, auto-dimming rearview mirror, heated outside mirrors and steering wheel to top it off at $29,990 which included Kia's freight and handling fee. The entire audio/navigation system is ridiculously easy to use. Within minutes Bluetooth was activated, stereo preferences and the first address entered all without even having to read the owner's manual; operator ease always earns double brownie points in my book. My love for their perfectly proportioned steering wheel with thumb controls just puts the cherry on the top.
In December, Kia will launch "Windows Embedded Automatic Platform", a Microsoft UVO control interface on Sportage that is similar to Ford's Sync. This will allow the driver to control all phone/audio with speaking commands, the ability to send and receive text messages with custom preprogrammed replies if your phone has streaming Bluetooth capabilities. UVO will be standard on EX models (optional on other models) however at this time UVO is not compatible with the Navigation system. Kia hopes to resolve this issue for the 2012 year. The leather seating was ohhh la-la supple, with adequate support and the heated/cool function just seemed to be extra added touch for this price point. Both front and rear seating has what appears to be more than average seating with leg room for miles. The panoramic sunroof that manages to encompass a majority of the roof was a crowd pleaser too. The rear cargo area even surprised me, the entire area could hold more than what the eye perceived. The overall construction of the interior seemed that much more luxurious than what one would expect; the bar just seems to be continuously raised by Kia.
If you do elect for the AWD version of the Sportage, it offers continuously monitored conditions and can anticipate AWD requirements when other AWD's on the market can only react after events occur. This advanced AWD system provides the driver with improved stability while cornering as well as removing of under steering. Sportage AWD design provides 100% of torque to front wheels during normal driving conditions which enhance fuel economy but when a slip is detected torque automatically transfers to rear wheels to maintain control. The driver can also choose "LOCK" mode while driving in rain/snow, mud, unpaved roads or off-road to distribute torque evenly between front and rear.
Overall, the 2011 Kia Sportage's positives outweigh the negatives only which are a weird sightline that at times has you peering over the steering wheel or out the side window to ensure you do not hit anything while making a turn regardless of how you adjust the seat," Okay" fuel economy and just a tad overpriced; 5k less would make the Sportage a no brainer but often enough there are rebates and discounts to knock the price down. The positives are plentiful; as yet another Kia has completely taken me by surprise with its quality features, unique appearance and overall driving enjoyment.