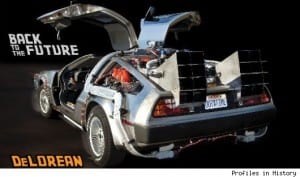 This year is the new 25th Anniversary of a legendary film "Back to the Future" and Profiles in History is partnering with the foundation created by Michael J. Fox, who starred as Marty McFly in the films. The foundation's Team Fox in an amazing auction of over 150 pieces of Hollywood memorabilia hope to raise money for Parkinson's research, as well as fund much-needed lifesaving support for disabled, abused physically challenged and underprivileged children.
Of course, among all the iconic the film-related products, you can bid on DeLorean Time Machine.
Also, there are Marty McFly's future jacket from the movie "Back to the Future II" ($25,000-$50,000), his future Nike "Mag" self-lacing shoe worn in the film ($12,000-$15,000), Screen-used Gray's Sports Almanac 1950-2000 ($3,000-$5,000), Prop Hill Valley map from "Back to the Future III" ($8,000-$10,000), and rare prop SFX "transformation" photos of Eric Stoltz as "Marty McFly" from Back to the Future ($300-$500).
Eric Stoltz was replaced by Fox five weeks into production so he was the original Marty.
Anyway, how much would you pay to go back to the future?