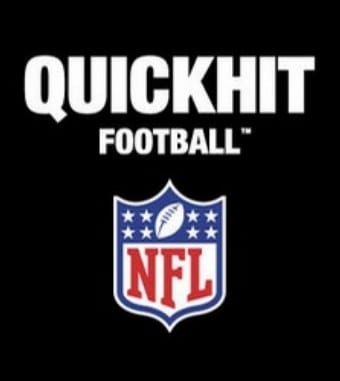 FOXBOROUGH — Quick Hit NFL Football has changed quite considerably since the last time we checked out the game almost a year ago. To start with, last year, it wasn't Quickhit NFL; the game only recently re-launched with the NFL license the company acquired back in June, making it the only game aside from EA's Madden titles to have such a license. Before,  when players created a team, they had to pick from a variety of logos, choose colors, and make up a name for their team. Now, players can still do just that if they choose to, but all football fans likely agree that being able to play as the New England Patriots is more exciting and authentic than playing as the Fantasyville Wildebeests.
The basics of the game are the same as they were a year ago; you start the game with a roster of 38 players and a basic set of plays. For every game you play, you earn fantasy points which increase your coach level, which in turn earns you Coaching Points to spend on training players or buying new plays for your playbook. Plays, as well as new players for your team and other items, can also be purchased using Quick Cash, the in-game currency. Both Coaching Points and Quick Cash can be purchased on the site through micro transactions.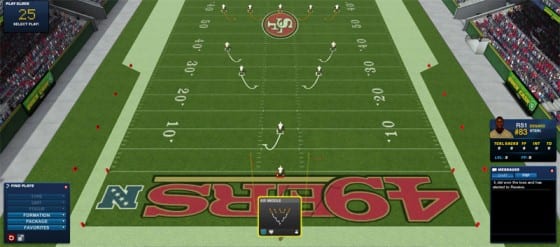 Players on your team will have a level cap depending on what your current coaching level is, in order to keep the competition as even as possible. As your players level up, they earn skills that can be used in-game; three skills can be used in each play, but each skill can only be used successfully once per game. If this gameplay design feels familiar, it shouldn't be surprising to know that the game has been sometimes described as a football RPG, or that some of Quickhit's staff come from an RPG/MMO background.
The RPG aspect of the game is perhaps one of the most compelling features of the game. At its core, NFL's Quickhit can be described as a turn-based strategy game. The appeal of the game is fairly obvious to football fans, but even gamers who enjoy RPGs or strategy games who aren't necessarily familiar with football may find NFL's Quickhit to be an enjoyable experience. Accessibility has always been a huge theme with Quickhit – the game can played for free by just about anyone who has a basic understanding of the rules of football. It could be said that the game is primarily targeted at the fantasy football crowd who aren't video game savvy, since it doesn't involve the button mashing of a Madden game where you control the players, but both Geoff Scott, the game's Producer, and Brandon Justice, the Director of Design, believe that this is a game for everyone, and the company will continue to focus on bringing in new users.
NFL's Quickhit is mainly a social game, so the emphasis is on multiplayer, but the game offers several single player challenges where players can earn fantasy points just as they would in multiplayer.  Players start with the rookie cup, where they go through a series of challenges leading up to their first four-quarter game. With the new NFL makeover, the challenges now include the ability to compete against the full 2010 NFL season schedule of your chosen team. Other challenges include a Division Challenge, Coach's Challenges, and the Draft Showdown, where the goal is to defeat four rounds of teams stacked with the best draft picks in the league.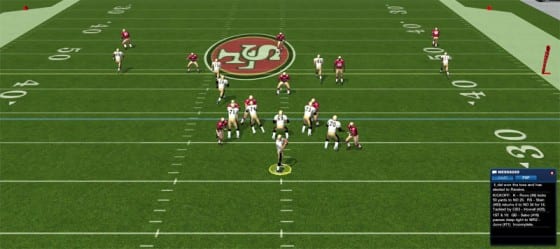 Basics aside, two other big changes in NFL's Quickhit since October are the addition of enhanced 3d graphics new subscription memberships. The game is normally played using flash in a 2d overhead view, but for those who want a better look at the action, there is now the option to pay for a multi-angle 3d view of the game using the Unity engine. The 3d upgrade costs $14.95 by itself, and it is included on the Pro membership subscription. The Pro membership includes, along with the 3d upgrade, elimination of in-game banner ads, a monthly allowance of both Quick Cash and Coaching Points (200 QC and 2,000 CP), and an experience bonus which allows players to level up faster. The subscription costs $5.99 for one month, $29.99 for 6 months, or $47.99 for a year.
The game's fanbase has grown steadily, and the devotion of its fans can be measured by the fact that they recently had to up the level cap for coaches from 100 to 200 to support some of the game's longest players. It takes roughly 1,000 games to reach level 100, which is a pretty good indicator of how enjoyable the game is to its long-time players.
All in all, NFL's Quickhit is a very different game than it was back in October, and it's not done changing yet. Because the game is a live product, the designers are constantly improving and adding new features to it, with updates as often as every two weeks. When discussing an array of possible future additions to the game, including official, organized tournaments, an in-game achievement system, and alternate game modes, Geoff's response was, "It's not a matter of if, it's a matter of when." Certainly, if you take a look at our hands-on article from last October, it's clear the game is constantly evolving, and it will be interesting to see where it's at in 6 months or a year from now.
To check out the game for yourself, visit www.quickhit.com and take the first challenge.