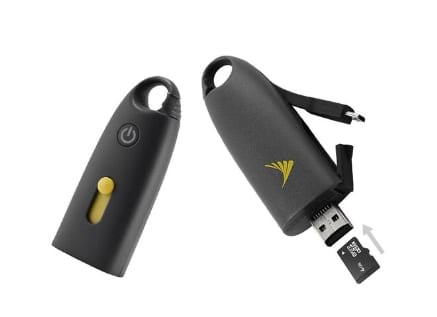 There are few things worse than running out of cellphone "juice" at the worst possible time. Well, enter Technocel's Sprint Battery Boost. The Battery Boost is a portable recharging solution and SD card reader all-in-one for your mobile phone, Bluetooth headset and most micro USB devices. Sprint Battery Boost features include:
Built-in Battery – With a 600 mAh lithium ion battery, the Battery Boost provides convenient recharging to your mobile or USB device for up to 1 hour of additional talk time* via the micro-USB connector
Micro SD card reader — Battery Boost doubles as a micro SD card reader that allows you to store and transfer data files including photos, documents and music files
Retractable USB Connector — When Battery Boost is placed within any USB port such as a computer, home or car charger, it will automatically charge its internal battery. You can even charge a battery and your handset at the same time
Built-in Carabineer Clip — While on the go, use the built in carabineer to clip it on your belt loop, purse, keys, backpack or anywhere else
Power button & internal battery status indicator — This indicates a low to high battery charge so you can easily see how much juice you have remaining
"Battery Boost consolidates mobile power and media storage into one convenient all-in-one device.  Perfect for a quick recharge or sharing your latest pictures, movies, and songs, this is one product that you'll truly never want to leave home without," said Rami Rostami, CEO and founder of Technocel.
Sprint Battery Boost is available for $29.99 at Sprint Stores nationwide, and 1-800-SPRINT1. For more information on product specifications and availability please visit www.technocel.com