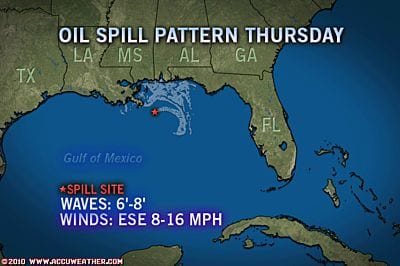 STATE COLLEGE, PA. — AccuWeather.com — After all oil skimming vessels in the Gulf were ordered into port on Tuesday due to unsettled weather conditions surrounding Hurricane Alex, waves are expected to calm enough for operations to resume by Friday.
"Alex's waves will calm down over the oil spill area during the next several days," said AccuWeather.com Chief Hurricane Meteorologist Joe Bastardi. "However, very heavy rains will remain a concern through the end of the week."
According to AccuWeather.com meteorologists, weather conditions should subside beginning Thursday, as wave heights begin to diminish and winds become light and variable. Wave action could still be tumultuous today, with some waves reaching more than 8 ft.
Winds on Thursday will gust 8-16 mph out of the east-southeast, dropping to just over 10 mph by Friday. Wave heights will peak at between 6 and 8 feet throughout the day on Thursday and diminish to 3-6 feet on Friday.
Scattered thunderstorms will threaten the area through the end of the week, becoming much more widespread and lessened by Friday.
Rainfall will be the biggest concern as the outer bands of Hurricane Alex drop 3-6 inches of rain over the oil spill area through the end of the week.
Lightning from thunderstorms can spark fires in the oil slick and strike drill ships and workers performing cleanup operations at least 10 miles away from where it is raining.
Ships performing oil skimming operations were ordered back to shore on Tuesday, and all efforts on the coasts of Louisiana, Mississippi, Alabama and Florida continue to be halted as of Wednesday morning. Onshore clean up and recovery efforts were halted on Wednesday. However, the drilling of two relief wells attempting to stop the leak is still in progress.
Various areas along the Louisiana coast have been struggling to keep oil-soaking booms in place, and crews are remaining on high alert that booms do not become detached.
BP still expects capping operations to wrap up by mid-August, but interruptions from an active 2010 hurricane season could hamper the stopping of the leak.
"Alex is an example of how far away tropical storms can still impact the oil spill in Gulf," said Bastardi.
Hurricane Alex, currently a Category 1 hurricane, is expected to strengthen into a Category 2 storm before making landfall late Wednesday evening on northeastern Mexico.
By Carly Porter, writer for AccuWeather.com