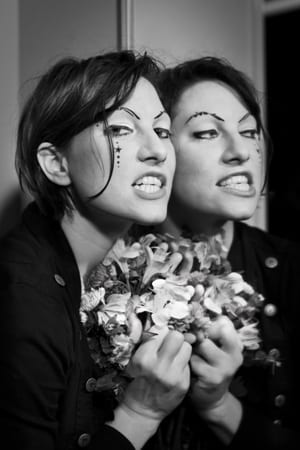 Who in Boston would you most like to witness as the host of a 1930's German cabaret?
How about a former Dresden Doll?
The American Repertory Theater has announced it's season opener for 2010-2011 and it's sure to have some broad appeal: Amanda Palmer, headlining a production of the much celebrated 1960's Broadway musical, "Cabaret."
Come September, the A.R.T's rebranded black box/dance club, OBERON, will became the Kit Kat Club, and Palmer, who collaborated with the A.R.T. before in her Dreden Doll-developed theatrical cabaret show, "The Onion Cellar," will lead a cast including veterans Thomas Derrah and Jeremy Geidt. At the helm, will be Steven Bogart, an accomplished director and playwright who also happens to have served as Palmer's drama teacher in the days of her youth at Lexington High School.
"I'm over the moon about being able to use OBERON as an artistic playground this fall . . . and this project is a long-time dream-collision of working on Cabaret and working with Steven Bogart, whose directing genius will finally find the audience it deserves," says Palmer in an A.R.T. press release.
Judging from descriptions, "Cabaret" seems like a particularly apt lead-in to a season full of bizarre and surrealistic musical adaptations and collages, with strains of local flavor wafting throughout.
Next up after "Cabaret" will be "Alice Vs. Wonderland," an experimental take on the oft-adapted Lewis Carroll work, directed by frequent A.R.T. collaborator, J¡nos Sz¡sz, followed by "The Blue Flower," a multimedia musical work directed by Will Pomerantz with music, lyrics, script, and videography by Jim Bauer and artwork, story, and (additional) videography by Ruth Bauer.
According to the release, "The Blue Flower" offers a fusion of (again) Weimer cabaret and (this time) country and western music, as the soundtrack to a tale narrated by a painter about star-crossed lovers making their way through a Paris being battered by World War I.
Next up will come a whimsical chronicle, "R. Buckminster Fuller, The History (and Mystery) of the Universe," about the Massachusetts-reared "Futurist, environmentalist, and geodesic dome designer," who so endlessly inspired both scientists and science fiction writers, written and directed by D.W. Jacobs.
After that: two forays into Ancient Greek Drama: "Ajax," Sophocles' great tragedy about the strain of war on the mind of the warrior and the ways in which trauma-struck warriors should be confronted, followed by a brand new rock musical interpretation of the Aeschylus tragedy, "Prometheus Bound," with text and lyrics by Steven Sater, music composed by Serge Tankian and direction by A.R.T. artistic director, Diane Paulus.
Last, but certainly not least if curiosity is your measure, will come "Death and the Powers," also directed by Paulus, a cyber opera developed by the MIT Media Lab in partnership with the A.R.T. and composed by Tod Machover, whom the L.A. Times has called "American's most weird composer," with a libretto by former poet laureate and current Boston University professor, Robert Pinsky. This work promises "an expressively animated stage," "a musical chandelier," and "a chorus of robots."
While you recover from this dizzying list, bear in mind that you don't have to wait until next year for a taste of dramatic musical quirk with a Boston accent from the A.R.T. Their May premier is in fact one of the most bizarrely premised and yet doubtlessly the most pandering offering wrought upon Cambridge stages:
Johnny Baseball. A Red Sox musical.
Just like this year's Sox season, this show's prospects seem somewhat harrowing, but just like with the Sox, if you're anything like me, you are absolutely compelled to see how it turns out.
Maybe that's why the A.R.T. is closing with a Red Sox musical. They know of course, we're in the mood for the drama and the pageantry, but also, if "Johnny Baseball" delivers, it will be a pleasant surprise, and if it flops, well, "wait 'till next year!"