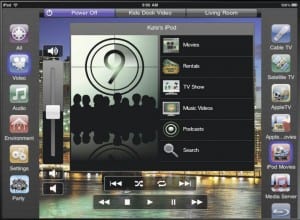 "Imagine the power and convenience of a slender 9.7-inch touch screen that weighs less than two pounds and integrates complete home control and entertainment with Internet access and stunning graphics," said Robert Madonna, founder of Osterville-based Savant Systems LLC. His company has recently launched an iPad application for ROSIE, their Apple-based home automation and control system, that will utilize the iPad's functionality to allow users to gracefully swipe the iPad and control your lights, shades, HVAC systems, home theaters, multi-room audio systems, docked iPods and more.
This on the same device that can play media, surf the Web, and act as a fully functional e-book reader, just to name a few abilities.
Understanding that user-friendliness is the most important aspect to expanding the home-control market, Savant has taken a huge step in the right direction with its iPad integration. Savant is creating in-wall and tabletop docks for dealers to resell, hoping to render existing in-wall multi-touch screens, which range from $3,000-$6,000, obsolete. Savant customers should find the iPad to be an indispensable household gadget they take with them from room-to-room, precisely the reason Apple has allowed Savant to become a reseller.
While this is a huge win for Apple, as one can only imagine the flurry of companies already lining up to integrate the tablet into their own offering, it's also a huge win for consumers. Installing a standard Savant home-control system built around an iPad will reduce the costs from nearly $20,000 to $7,000, drastically lowering the barrier for entry into the market.
Savant has also developed a home-control app for the iPhone and iPod touch, but the controls aren't nearly as intuitive as on the iPad's 9.7-inch screen. Makes sense. If you're going to drop thousands on a home-control system, why not sweeten the pot with an iPad?
Savant has probably started an unforeseen avenue for the iPad to travel down. Integrating the iPad's multitouch technology and economical price with both home and office systems could be the future of the iPad. It's beginning to become clear that though the iPad may not appeal to the average Joe, it is instilling itself in enough niches to make it a success.