The 80's may be synonomous with tunes from Van Halen and dodgy outfits, and my birth, but this fall, when Tony Hawk: RIDE releases, it'll also be an exciting and alluring era to travel to, provide you reserve your game from mega-retailer GameStop.
Dubbed the "80's Quicksilver Level," this exclusive reserve goodie scores you access to a "Vert Ramp challenge sandwiched between two 747's on the runway of the Frankfurt Airport decked out in Quiksilver 80's theme including Tony Hawk himself."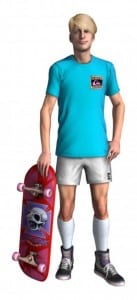 Tony Hawk: RIDE will ship with a full-on plastic faux-skateboard this November 17 and will surely forever change the way we think of the extreme sport genre. What will EA and "Skate" answer with is also a serious question, provided RIDE doesn't fall on its face and fail.