SAN DIEGO "" When Tyrese Gibson sat down to talk about "Legion" he was all smiles and laughs, gushing about his debut comic "Mayhem" and discussing how he bring the party with him. Still on a high from debuting the teaser trailer of "Legion" before 15,000 people in Hall H, Gibson had plenty to say about the film.
"We just showed the trailer out there "" or the teaser "" and they went nuts" he said. "I didn't think we was gonna go wrong with having a director like Scott Stewart make his debut, who happens to own a special effects company."
With Paul Bettany's shirtless body plastered all around the convention center to promote the film, Gibson had plenty to say directed towards the actor "" who happened to be sitting right behind him.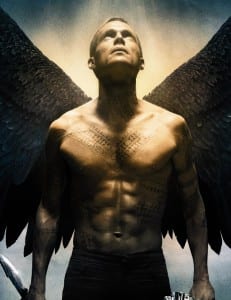 "Paul Bettany, just tell them how sexy you are, Jesus" Gibson joked. "Tell them about that shirt that came with muscles."
Later, he joked again about Bettany in regards to Scott Stewart's visual effects capabilities.
"I told him listen, whatever you do, I know you've got to focus on a lot of effects, just make sure I have more muscles in this movie. Draw me a few more lines and ripples, and I think he delivered, and I'm excited about that" Gibson said with a laugh. "I mean, he gave Paul Bettany a stomach for the cover, you know what I mean? Great CG work. Great CG work. [Bettany] worked out a little bit, but the CG work really took those abs to another level. And the whole film was sponsored by baby oil, so it was just crazy. It was a baby oil drought in the whole city of Albuquerque."
On a more serious note, Gibson talked about the similarities between his character, Kyle Williams, and his own life. He said Williams is on his way to court to try to gain custody of his child "" something Gibson is going through right now "" when he stops at a diner and "all hell breaks through "" literally." But even with such serious topics, Gibson showed he was always in for a joke.
"So they're trying to stop these spirits and these forces are trying to stop the birth of Jesus that's in this woman's stomach and then it gets revealed that it's actually my baby" said Gibson, pausing, and then bursting out laughing. "Oh no, I'm just playing. (laughs) Yeah! Everybody got quiet like, okay. I'm quick on the draw. (Adrianne Palicki's Charlie) was only a couple months pregnant; we were stuck there for a minute, but we're having a light-skinned Jesus. It's going to come out half mixed; he's going to be a half breed. It's a beautiful collaboration."
Scott Stewart said later Gibson always acted as hit cheerleader, flaunting Stewart's visual effects abilities, and it was proven as Gibson kept coming back to the effects in conversation.
"("ËœLegion's) got some great effects in it. It's not over the top" said Gibson. "Unfortunately, we don't get no Optimus Prime in this one, but you know, Bumblebee makes an appearance in the film "" no, I'm just playing. Bumblebee with vampire fangs shows up. But yeah, it's definitely got some great effects in it. You can't go wrong."
He added, "Crazy thing is, y'all didn't hear this from me, a lot of directors and producers hire this guy and pay him big bucks to do effects on their films, but he hasn't gave up all of the goodies; he saved them for his own damn movie. He's got us doing some things in this film with some effects in this film, I've never seen before. He pulled out the bag of goodies for "ËœLegion.' I mean, the way this movie looks, you'd this movie cost $75 to $100 million, easy."
When Blast tried to find out how big the budget for the film was, Gibson responded immediately, "I don't know" but then added with a laugh, "You said that so calm, you almost sucked me right into that."
Gibson said it was great to work with Dennis Quaid again (who he worked with in "Flight of the Phoenix") and talked about how his reputation is making sure everyone is having fun on the set of whatever film he is on.
"But that's what I do: make sure the cast is having fun, then we all become good friends and we get each other pregnant" he laughed. "I'm a human party on feet, man. Come on, baby, I can turn this into a party. I'll pull out a speaker box in a minute. Come on, man, I will have someone in the corner beat boxing, and we will have this piece dancing, please believe that. Come on man, people take life way to serious. I like having fun."
After the blockbuster success of "Transformers: Revenge of the Fallen" the upcoming release of "Mayhem" and the success of his music career, Gibson has much to be happy about.
"That's right" he said, "life is beautiful. Life is beautiful."