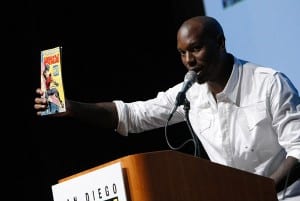 SAN DIEGO "" With "Transformers: Revenge of the Fallen" a resounding box office success this year, it is only natural for conversation with one of the film's stars, Tyrese Gibson, to shift to discussion of a third film.
"Absolutely" said Gibson when asked what was happening with a "Transformers 3." "It's in motion."
In interviews following "Transformers: Revenge of the Fallen" director Michael Bay made remarks saying he wanted a break from big blockbusters, saying that he was in the process of working on a dark comedy. Gibson reassured fans that Bay would indeed be getting behind another "Transformers" film.
"Michael Bay, he definitely needs to take a break from ("Transformers"), understandably so, but this is the movie — the biggest movie he's ever directed in his life" said Gibson. "And so, he can keep producing all of these other projects, but he is officially the king of geeks."
Gibson's role in "Revenge of the Fallen" was markedly smaller than his role in the first "Transformers" film, a fact he claimed he was sure was going to be remedied for a third installment.
"I will absolutely be back" he said, "and my part is going to be bumped up."