Surprise! Perez Hilton can dish it out, but he can't take it.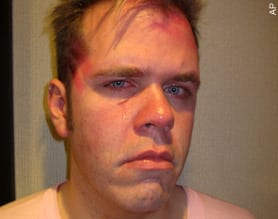 After the MuchMusic Video Awards in Toronto on Sunday, Perez Hilton called the Black Eyed Peas' will.i.am a faggot and subsequently took a punch in the face from BEP manager Liborio Molina, according to The Hollywood Reporter. Hilton notified the police via Twitter (did anyone else not know this was possible?) and Molina has been charged with assault.
Today, Page 6 reported that Hilton "" who condemned Isaiah Thomas for using such derogatory language on the set of Gray's anatomy "" is facing the scorn from all angles, including the Gay & Lesbian Alliance Against Defamation. GLAAD is demanding Hilton apologize, saying, "For someone in our own community to use it to attack another person . . . is incredibly dangerous."
Meanwhile, in La-La-Land (both literally and figuratively), Hilton still feels that he is the victim. Apparently, he is surprised to learn that actions have consequences and feels that GLAAD is victimizing him "for how I non violently dealt with a very scary situation," Page 6 reported.
Actually, Perez, they probably don't take issue with you Twittering the cops. It was more likely the offensive, petty name-calling that got you into that "very scary situation."
Page 6 also reported that John Mayer chimed in on the nonsense on — you guessed it — Twitter. Here are his rather comical remarks:
"P!nk kneed me in the (bleep) outside Chateau Marmont. I was pissing blood for days. Did I make a scene? I also want to train you in an old martial art called 'Never Call a Black Dude a Faggot Jitsu.' "