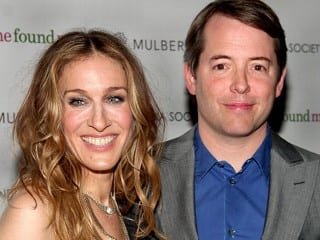 Sarah Jessica Parker and Matthew Broderick became the proud parents of twins this morning, reports abcnews.com.
Marion Loretta Elwell Broderick (5lb, 11oz) and Tabitha Hodge Broderick (6 pounds) were born to Michelle Ross, the surrogate mother for the couple, this afternoon in Ohio.
A representative for the couple said the middle names Elwell and Hodge are both family names from Parker's side, which, in my opinion, is not a good enough excuse.
Parker and Broderick also have ' a 6 year old son named James Wilke (another family name, I presume?).
"The babies are doing beautifully, and the entire family is over the moon," said the representative.
Photo: abcnews.com