Set to release with the limited edition Halo 3: ODST at retail, this downright sexy Xbox 360 controller specifically built for the game is something fans like myself will snatch up with full enthusiasm.
I don't know about you, but the puke-green colored controller that came with the Halo 3 Xbox 360 console bundle just didn't do it for me.'  To much puke, not enough Halo.
What do you think?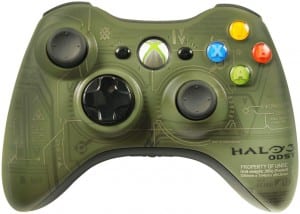 The controller is said to be "exclusive" to the Halo 3: ODST bundle, so you'll only get one with the new game in September and won't see it on Best Buy shelves sold separately.