As promised, IGN unveiled High Voltage Software's second project in as many days, revealing an even more horrific and ambitious title by the name The Grinder.'  In case you fell off the face of the planet this morning, the studio announced Gladiator A.D. earlier today.
Most importantly The Grinder is an over-the-top and gore ridden FPS experience that is heavily-weighted on four player co-op play, a la Left 4 Dead.'  As an unexpected bonus, The Grinder fully supports the Wii's online capabilities and allows for Wii owners across the world to take part in ubiquitous scenes of hell-bent violence.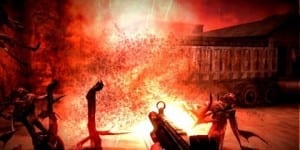 Zombies are so Left 4 Dead, in The Grinder you'll be slaying werewolves, vampires (take that Edward Cullen!), as well as the undead (okay so it will have zombies).
Eric Nofsinger of High Voltage describes the story as such: "Our group of heroes is a sort of the cryptobiological A-Team of going into areas with infestations and killing everything that moves."
Killing everything that moves? I'm down for that, but whom, specifically, will I be slaying these beasts as?'  How about the likes of Hector, Doc, A.J., and Miko, each with varying personalities. We're not quite sure just yet if any are of the female contingent; A.J. is a likely possibility however.
Finally, as a functionality note, The Grinder will support Wii Speak, Wii MotionPlus, four-player co-op online and 2 player split screen co-op.'  High Voltage was mum on the notion of achievements and leader-boards for The Grinder but promised forthcoming details on what the studio calls "certainly big factors when it comes to replayability."
Head on over to IGN to catch the full interview.