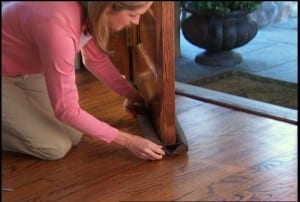 With college costs on the rise, it's hard for students to stay on a budget and survive living on their own. Your first apartment can be cold, damp and drafty, and if you're a student in Boston, your heating costs may take a big bite out of your monthly budget. Electricity costs money, but If you plan ahead, you can use that extra cash towards your books, entertainment and late night food runs.
One gadget that might help is a draft guard under your door to help keep your warm air in and the cold air out.
Made from the same foam used to insulate pipes in Northern Canada, the Twin Draft Guard keeps the internal climate from being affected by the outside elements allowing for more efficient temperature regulation, and it can save you 20 percent on your energy bill. It's a simple, cost-effective way to reduce heating costs this winter and put some extra money in your wallet to enjoy college life. It's also great for blocking out those noisy parties that your roommate decides to throw the night before your big exam.
The Twin Draft Guard is easy to install, stays in place and fits windows and doors up to 36 inches. All you have to do is cut the inserts to the length you need, insert them into the cover then slide the Twin Draft Guard under the door. Doors open and close easily as it glides over all floor surfaces, even carpet. The Twin Draft Guard retails for $9.99 and is available at Lowes, Walmart, Target, Bed Bath & Beyond, Walgreens, or online.