Forget Football.
Okay, it's Sunday, and you feel like the only person in Boston who isn't glued to the TV watching the Patriots game. So not true! It might seem like Tom Brady casts a spell that brings the whole city to a halt, but there are a million other things to do instead this Sunday. With everything from street fairs to poetry readings, here are a few ideas to get you started.
Matinee Madness
If you really want to escape, head to the movie theater to find an alternate reality where Megan Fox is possessed by a demon and Matt Damon is fat. Jennifer's Body, a quirky horror flick from Diablo Cody, the writer of Juno, opens this weekend. It stars Megan Fox as a bloodthirsty cheerleader who starts killing off her male classmates. Another new flick worth seeing is The Informant, which stars Matt Damon as a bumbling exec who starts spying on his company for the FBI.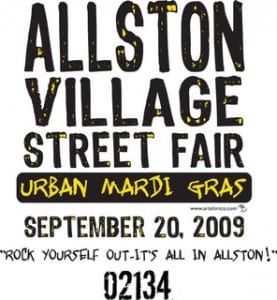 Hit the Streets
To load up on live music and lots of your favorite street food, head over to the Allston Village Street Fair. From noon to 6 p.m., Harvard Avenue from Brighton Avenue to Cambridge Street will be jam-packed with art exhibits, food vendors and street performers. There will also be three stages of live entertainment featuring local bands like Bird Mancini and Three Day Threshold, as well as Irish step dancing and a troupe of belly dancers.
Be A-maize-d
Get in touch with your inner child and take advantage of the great fall weather by exploring one of the area's corn mazes. For under $10 per person, you can put your sense of direction to the test and see if you can find your way out of an elaborate maze built right into a cornfield. North of the city, try Marini Farm in Ipswich. South of the city, Sauchuk Farm in Plympton has a maze dedicated to 100th anniversary of the Lincoln cent — from above, it looks like a penny!
Culture on the Cheap
It's time to channel your artistic side because Sunday is the perfect day to visit the Museum of Fine Art. From 10 a.m. to 4:45 p.m., admission to the museum is totally free. So for less than you spend on your morning coffee, you can enjoy exhibits such as Vida y Drama: Modern Mexican Prints and Seeing Songs, a collection of works inspired by music. ReadBoston will also be there holding a book drive, so you can top it all off by doing a good dead and bringing a children's book to donate.
Poetry in Motion
For something more unusual, stop by the Forsyth Chapel in Forest Hills Cemetery at 2 pm for a reading by The Carpenter Poets of Jamaica Plain. The group of local craftsman discovered a shared love of poetry more than a decade ago and have been meeting for poetry readings ever since. For $5, you can join them to hear their latest works and enjoy the architectural beauty of the 19th century chapel.
Retail Therapy
If shopping is more your type of sport than football, you should check out the Sowa Open Market. Located at 540 Harrison Ave. and open from 10 am to 5 pm this weekend, the market features 120 different vendors. Browsing through the booths, you can find everything from handmade pottery, one-of-a-kind jewelry and the latest creations from local indie fashion designers to fresh flowers, tasty baked goods and produce from area farmers. With free admission and free parking, too, you can't lose.